International Womens' Day 2023
By Medina Avdagić, Revolutionary Communist International Tendency (RCIT), 8th March 2023, www.thecommunists.net
In 1917, the revolution in Russia was sparked by the protest of women, on the International Womens' Day. More than a century later, we see the dawn of the same spirit rising again.
On this Historic Day We March, because our Iranian sister Mahsa Amini was brutally killed in custody by the Gasht-e Ershad (Guidance Patrols). The notorious moral police took her life, so we took the streets fighting for freedom.
On this Historic Day We March, united with all the sisters in Ukraine who are fighting against the occupation war of imperialist Russia. A truly free and independent Ukraine can only be achieved without NATO, EU and other imperialists hijacking the just defense of our people.
On this Historic Day We March, singing on the streets with our sisters in Peru, fighting against the Boluarte regime and all the attempts to stigmatize our voices of struggle (Terruqueo). THEY will never succeed to silence us.
On this Historic Day We March, following the paths of the women in America Latina and Africa who organize campaigns and protests of the masses against gender violence. All the women who punch back, protecting their lives, their sisters, and future generations.
On this Historic Day We March, honoring the hundreds of thousands of poor workers and farmers, mostly women who built a resistance movement in India over the last year against the massive hunger crisis. Caring for the land, they cared for all activists too.
On this Historic Day We March, facing how our homes in Palestine are burnt down by Zionist settlers, our family and friends murdered by the Apartheid state. They believe to destroy us with fire, but we are clinging to flames…the flames of our resistance, of our Intifada.
On this Historic Day We March, because THEY tried to take away:
Our Freedom and Independence
Our Voice and Bodily Autonomy
Our Land and Food
Our Homes and the Homes of our Ancestors.
The International Womens' Day is the day we take the flowers gifted to us, to put them in our hair, our uniforms, our weapons.
The flowers will accompany us in the socialist revolution when we smash the capitalist system and its integrated patriarchy.
The flowers will fall from our hair, our uniforms, our weapons into the graves of those who thought they can take away what always was and is, truthfully ours.
메디나 아브다지치, 혁명적 공산주의인터내셔널 동맹 (RCIT), 2023년 3월 8일, www.thecommunists.net
1917년 러시아 혁명은 국제 여성의 날에 여성들의 시위로 불이 붙었다. 한 세기 이상이 지난 지금, 우리는 같은 정신의 동이 트는 것을 다시 본다.
이 역사적인 날에 우리는 행진한다. 우리의 이란 자매 마샤 아미니가 폭력 경찰에 의해 구금되어 잔인하게 살해되었기 때문이다. 악명 높은 도덕 경찰이 그녀의 목숨을 앗아갔다. 그래서 우리는 해방을 위해 싸우러 거리로 나왔다.
이 역사적인 날에 우리는 제국주의 러시아의 점령 전쟁에 맞서 싸우고 있는 우크라이나의 모든 자매들과 어깨 걸고 행진한다. 진정으로 자유로운 해방·독립 우크라이나는 우리 인민의 정의의 방위전쟁을 가로채지 못하게 나토, EU 등 제국주의자들을 물리치는 것을 통해서만 달성할 수 있다.
이 역사적인 날에 우리는 페루의 우리 자매들과 함께 거리에서 노래하며, 우리 투쟁의 목소리에 색깔을 들씌어 투쟁을 무너뜨리려는 볼루아르테 정권에 맞서 싸우며 행진한다. 그들은 결코 우리를 침묵시키는 데 성공하지 못할 것이다.
이 역사적인 날에 우리는 여성 폭력에 반대하는 대중 시위를 조직한 라틴아메리카와 아프리카 여성들의 길을 따라 행진한다. 그들의 생명과 그들의 자매, 그리고 미래 세대의 생명을 보호하기 위해 반격에 나선 모든 여성들이 열어놓은 길을 따라 행진한다.
이 역사적인 날에 우리는 인도에서 대규모 기아 위기에 맞서 지난 1년 동안 저항 운동을 만들어간 여성들을 포함한 수십만 명의 가난한 노동자들과 농민들을 기리며 행진한다. 토지를 돌보면서 그들은 모든 활동가들도 돌보았다.
이 역사적인 날에 우리는 우리의 팔레스타인 집이 어떻게 시온주의 정주자들에 의해 불 태워졌는지, 우리의 가족과 친구들이 어떻게 아파르트헤이트 국가에 의해 살해되었는지 마주하며 행진한다. 그들은 우리를 불로 파괴할 것이라고 믿지만, 우리는 우리의 저항과 우리의 인티파다의 불꽃으로 광야를 불 사를 것이다.
이 역사적인 날에 우리는 행진한다, 그들이 빼앗으려 했기 때문이다:
우리의 해방과 독립을
우리의 목소리와 우리 몸의 자율을
우리의 토지와 식량을
우리의 집을, 우리 어머니 아버지, 할머니 할아버지의 집을 앗아가려 하기 때문이다.
국제 여성의 날은 우리가 선물 받은 꽃들을 우리의 머리에, 우리의 작업복에, 우리의 무기에 다는 날이다.
꽃들은 자본주의 체제와 그 체제에 내장된 가부장제를 박살내는 사회주의혁명에서 우리와 함께할 것이다.
꽃들은 우리의 머리카락과 작업복과 무기로부터 떨어져 저들의 무덤에 내릴 것이다. 언제나 우리의 것이었고 진실로 우리의 것인 모든 것을 빼앗을 수 있다고 생각한 자들의 무덤으로 말이다.
Report about the latest activities of Defensorías de Géneros and Convergencia Socialista (Argentinean Section of the RCIT), 4 November 2021, https://convergenciadecombate.blogspot.com and www.thecommunists.net
One of the priorities of the political work of our Argentinean comrades in Convergencia Socialista (CS) and Defensorías de Géneros (DdG) is the struggle against women's oppression. Defensorías de Géneros is an organization fighting for the liberation of women and other socially oppressed layers, in close collaboration with Convergencia Socialista.
One important recent event of the comrades' women's work was participation at the 24th Regional Meeting of women, lesbians, bisexuals, transvestites, trans, intersex and non-binaries at Tigre on 24 October 2021. The CS/DdG contingent constituted a militant and highly visible part at the demonstration and the following conference and advocated a socialist, working-class based perspective. (See the original report in Spanish language as well as numerous pictures below.)
Another important campaign, which the comrades did in the last weeks, was the expulsion of a pedophile rapist from a working-class barrio (poor neighborhood) in the southern zone of Buenos Aires. The rapist, Sergio Velázquez, was well-known for abusing girls with a pistole in his hand. While he got sentenced, he had to spend only a few months in jail and was the released by a judge to house arrest on 28 October, for "humanitarian reasons"!
Our comrades of Convergencia Socialista and Defensorías de Géneros, together with the Madres Protectoras contra el ASI, immediately started a campaign for the expulsion of this rapist from the barrio. They successfully mobilized the neighborhood via direct actions and soon the police were forced to evacuate the rapist. Below we republish two reports by Gabriela Capurro, a leading member of CS and DdG, in Spanish language as well as pictures and videos.
* * * * *
Importante presencia de Defensorías de Géneros en el Encuentro en Tigre
el octubre 25, 2021, https://convergenciadecombate.blogspot.com/2021/10/importante-presencia-de-defensorias-de.html
Con una importante participación de compañeras de la zona norte y delegaciones de otras regiones, las Defensorías de Géneros intervinieron activamente en el Encuentro 24° Encuentro Regional de mujeres, lesbianas, bisexuales, travestis, trans, intersexuales y no binaries, Tigre 2021. Algunas de las consignas que agitaron las compañeras: La deuda es con nosotres, no con el FMI. ¡Fuera Manzur! #ManzurNo Cumplimiento efectivo de la ley IVE. Implementación ya de la ESI. Que arda el capitalismo, no el ambiente. Basta de revictimización a les sobrevivientes de violencias. ¡La justicia y los gobiernos son responsables! Libertad a Karen Marín y Nancy Montiel. (ver imágenes)
No a la domiciliaria al pedófilo Sergio Velázquez
Por Gabriela Capurro, el octubre 29, 2021, https://convergenciadecombate.blogspot.com/2021/10/no-la-domiciliaria-al-pedofilo-sergio.html
EL juzgado de garantías número 4, a cargo del juez Sebastián Monelos, le otorgó el beneficio de la detención domiciliaria al pedófilo Sergio Velázquez, acusado por cinco niñas de abusos, con y sin acceso carnal. Las Madres Protectoras Contra el ASI y Defensorías de Géneros de la zona sur, cortamos las calles frente a los tribunales de Lomas, exigiendo la prisión efectiva para este pedófilo y por la vida de sus víctimas.
Mientras las niñas sufren depresiones, intentos de suicidio y angustia que las afectan en toda su integridad, los jueces de Lomas de Zamora dejan libres a pedófilos y abusadores, dejando bien en claro de qué lado se ubican. Por eso, en esta nueva acción junto a las Madres, desde las Defensorías de Géneros gritamos con mucha fuerza: ¡NO A LA DOMICILIARIA PARA SERGIO VELÁZQUEZ! ¡JUSTICIA POR TODAS LAS NIÑAS Y SI NO LA HAY HABRÁ ESCRACHE! (Ver video en Face de las Defensorías)
* * * * *
Con la ACCIÓN DIRECTA expulsamos a pedófilo del barrio
Por barrios libres de violencia y pedofilia con la autodefensa de los vecinos y las vecinas
Por Gabriela Capurro, de CS y las Defensorías de Géneros de zona sur (ver fotos - ver video), el noviembre 01, 2021, https://convergenciadecombate.blogspot.com/2021/11/con-la-accion-directa-expulsamos.html
En el 2019 una mamá, casi en soledad, decidió contar lo que sus hijas confesaron: Sergio Velázquez, en quien confiaban y que además era su patrón, había abusado de dos de sus hijas en el barrio de Budge, en el partido de Lomas de Zamora. Rápidamente la valentía de esa madre impulsó a que otras niñas hablaran y se animaran a denunciarlo en los tribunales de Banfield. ¡A fuerza de pistola, este pedófilo obligaba a las pibas a todo tipo de abusos!
Desde esa fecha, Velázquez apenas estuvo unos meses en la cárcel, ya que el 28 de octubre el fiscal Monelos -del tribunal de Casación N°4-  le otorgó el beneficio de la prisión domiciliaria, alegando una cuestión de humanidad. El abusador fue trasladado a Monte Grande, con la intención de alejarlo de la zona donde perpetró sus crímenes. Frente al pedido de las familias, la justicia planteó la posibilidad de rever su decisión, pero luego de analizar nuevos informes psicológicos, de manera de constatar si las niñas estaban o no afectadas, proponiendo en los hechos su re-victimización.
Frente a semejante aberración procesal, las Madres Protectoras contra el ASI y las Defensorías de Géneros decidimos movilizarnos para alertar al barrio a donde mandaron al pedófilo. Sr/a vecino/a, hay un pedófilo en su barrio fue la consigna más agitada en las calles cercanas al domicilio de Velázquez, gracias a la cual decenas de vecinos y vecinas salieron de sus casas para acompañarnos con el reclamo: ¡Fuera Velázquez de nuestro barrio! ¡ Barrios libres de violencia y pedofilia! gritamos sumando a decenas de personas indignadas.
Al atardecer, la contundencia de la protesta impuso una primera victoria, Sergio Velázquez fue sacado del barrio por la policía. ¡Ahora vamos por más, para que vuelva a la cárcel y nunca más salga de ahí! Una vez más, valiéndonos del método de la ACCIÓN DIRECTA -la autodefensa y el escrache de las organizaciones y vecinos- demostramos que podemos hacer lo que no hacen desde la justicia, que trabaja para los ricos y la defensa del Patriarcado. Por eso volvemos a repetir: ¡SI NO HAY JUSTICIA, SIEMPRE HABRÁ ESCRACHE! 
Report about the latest activities of Defensorías de Géneros and Convergencia Socialista (Argentinean Section of the RCIT), 10 December 2021, https://convergenciadecombate.blogspot.com and www.thecommunists.net
As we did already report, one of the priorities of the political work of our Argentinean comrades in Convergencia Socialista (CS) and Defensorías de Géneros (DdG) is the struggle against women's oppression. (see https://www.thecommunists.net/oppressed/argentina-revolutionaries-at-the-forefront-of-women-s-struggles/)
A central issue of this work is the solidarity campaign with Karen Marín. Karen is a young woman who has been sentenced for two years because of "attempted murder". In fact, she successfully defended herself against an attack of a group of men who tried to rob her. She lives currently under house arrest. (See the video with Karen below; see also http://libertadescs.blogspot.com/2021/01/karen-marin-otra-causa-armada.html)
As part of this solidarity work, our comrades in CS and DdG organized – together with other groups – a successful demonstration calling for the immediate release of Karen. Below you can see a video from this demonstration which took place in Buenos Aires on 19 November. You can also see excerpts from the speeches of two female comrades – Natalia and Laura – representing Defensoría de Genres and CS.
We also reproduce a short report from the demonstration in Spanish language.
* * * * *
Victoria de la movilización, otorgaron salidas laborales a Karen Marín
Por corresponsal, noviembre 19, 2021, https://convergenciadecombate.blogspot.com/2021/11/victoria-de-la-movilizacion-otorgaron.html
La enorme y combativa movilización que tuvo lugar esta mañana -desde la estación hacia los tribunales de Quilmes- logró que que la jueza del caso resolviera otorgarle a Karen Marín la posibilidad de contar con salidas laborales y para estudiar. Karen hace dos años que está detenida, ahora bajo el régimen de prisión domiciliaria, por una causa armada en la que fue acusada de "homicidio en grado de tentativa", ya que se defendió valientemente de una patota que quiso agredirla y robarle. 
Reproducimos imágenes de la marcha y fragmentos de los discursos de Natalia y Laura, de Defensorías de Géneros y CS. En la radio abierta que se improvisó frente a los tribunales, hicieron uso de la palabra compañeros y compañeras de diferentes organizaciones políticas, sociales y feministas. Un representante de Rebelión Popular convocó desde allí a pelear por la libertad de Facundo Molares, quien se encuentra preso y con pedido de extradición del estado colombiano, por haber sido solidario con la causa de ese pueblo en lucha.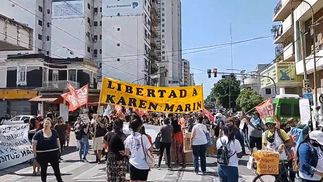 Below we republish a report about the Argentinean working-class prisoner Karen Marin. She is a member of the women's self-defense organization "Defensorías de Genero" as well as of the Trotskyist organization "Convergencia Socialista". She has been arrested because she actively defended herself against an armed assault by seven robbers. She had been in prison for several months and is now under house arrest.
The RCIT stands in full solidarity with Karen Marin and demands her immediate release as well as the drop of all charges!
We have republished the article from a website of Convergencia Socialista: http://libertadescs.blogspot.com/2021/01/karen-marin-otra-causa-armada.html
Karen Marín, otra causa armada
Por corresponsal, 6.1.2021, http://libertadescs.blogspot.com/2021/01/karen-marin-otra-causa-armada.html
A cuadras de la estación Darío y Maxi, la joven  Karen Marín de tan solo 20 años pasas sus días ansiando la libertad para hacer su vida y recorrer, entre otros lugares, las calles de su barrio en San Francisco Solano. Una escalera angosta nos lleva a la terraza donde nos recibe rodeada de plantas y animales, que son junto a la familia, estudio y militancia, su principal sostén para no caer en una situación de angustia debido a la pérdida de libertad. 
Víctima de una causa armada, hoy Karen es en realidad una presa política, porque ha sido detenida por algo que al régimen le causa escozor, como ha sido ejercer su legítimo derecho a la defenderse del ataque de una patota. Las causas armadas no son un fenómeno aislado, sino que forman parte de la política sistemática del aparato represivo, que funciona no para frenar los "delitos" en general, sino principalmente para reprimir y amedrentar a lxs de abajo. 
Una investigación realizada entre 2000 y 2001 por la Comisión Investigadora de Procedimientos Policiales Fraguados, detectó la existencia de decenas de causas penales inventadas por la Policía Federal Argentina (PFA) sólo en la Ciudad de Buenos Aires y con la finalidad "administrativa" de construir "estadísticas" para responder a las demandas políticas o institucionales y, de esa manera, justificar la existencia de este aparato represivo corrupto hasta la médula.
Organismos de derechos humanos han indicado muchas veces que la policía, tanto esta como las que responden a los gobiernos provinciales o distritales, suelen inventar, manipular u ocultar pruebas, con el simple objetivo de dirigir las investigaciones de delitos que efectivamente ocurrieron hacia personas determinadas, particularmente las de menos recursos. Por esto, cientos de personas inocentes  permanecen detenidas durante años, mientras que los responsables -políticos, empresarios, grandes mafiosos o los propios policías- ni si quiera son investigados.
En ese sentido, la policía cuenta con la posibilidad -arbitraria y discrecional- de construir la "primera  versión de los hechos", utilizando esa facultad para introducir testigos, sugerir hipótesis, realizar reconocimientos fotográficos y todo tipo de maniobras por fuera del control de los propios fiscales y jueces, para darle forma a los expedientes, sobre los que se realizan los juicios. ¡Por eso, algunos patrulleros cuentan con su propio "kit de causas armadas", que incluye bolsitas con droga y un revólver, que suelen "plantar" en el lugar de los hechos. 
"La policía arma causas porque hay condiciones que lo hacen posible", dice Luciano Coco Pastrana, abogado del Centro de Estudios Legales y Sociales (CELS). Este tipo de causas alcanzó relevancia mediática con el caso de Fernando Carrera, que fue condenado a 30 años de prisión por un crimen que no cometió. Fue tan escandalosa que motivó a Enrique Piñeyro a filmar una película, que se llamó "El Rati Horror Show". Este mismo director de cine, fundó después la rama argentina de Innocence Project, una ONG  que defiende a presos inocentes, como Carrera, que fue declarado inocente por la Corte Suprema de la Nación en 2016.
La causa contra Karen
Karen, después de abrirnos las puertas de su casa y recibirnos junto a su familia, nos cuenta acerca de su causa: "En el 2019 acompañe a mi pareja a una cuadra de mi casa en Solano para que tomara el colectivo, donde fuimos abordados por siete delincuentes que nos arrinconaron, de los cuales me defendí. Ese mismo día fueron a mi casa, buscando amedrentarme, a través de un auto desde el cual nos lanzaban amenazas. 
Rápidamente realizamos denuncias en la comisaria, pero el 20 de Noviembre del 2019 la brigada de Quilmes llegó con una orden de allanamiento y detención, acusándome de "robo agravado con uso de arma blanca y lesiones graves". Desde ahí me llevaron a la brigada, donde permanecí una semana, estando los dos primeros esposada a una silla y después en el calabozo, durmiendo en el piso. Al quinto, con la negativa a excarcelarme, me llevaron a Melchor Romero al sector de residentes, aunque sin tener antecedentes policiales. 
La justicia habla de mí pasar por la cárcel como un error administrativo, ya que las personas sin antecedentes deben ir a los pabellones de refugio o conducta. Lo que pasa es que el que me acusa tiene un hermano que es parte del sistema judicial, donde cuenta con la impunidad de armar este tipo de causas para protegerse y seguir en libertad, a pesar de ser uno de mis agresores, como si nada hubiera pasado mientras yo padezco el encierro.
¿Cómo fueron tus días en el penal?
Estuve tres meses en población, pasando las fiestas y cumpleaños. Ahí empecé a organizar un proyecto de escuela de peluquería para las detenidas, porque es uno de mis oficios. Pasaba veintiún horas de encierro total, por eso era importante mantenerme ocupada, para lo cual participé en talleres de escritura, fomentando esta práctica junto con la lectura entre mis compañeras. Al ser estudiante terciaria de Historia también encaré la terea de transmitir mis conocimientos, explicando el rol de las instituciones bajo este sistema. 
En la cárcel conocí a muchísimas personas que como yo sufren las peripecias del sistema judicial y su política represiva. Más tarde, gracias a la lucha conquistamos primero mi arresto domiciliario y después el traslado para estar con mi familia. ¡Ahora queda la instancia final, que es ganar definitivamente mi libertad! A partir de todo esto, me fui dando cuenta de que estas instituciones no están para protegernos sino para seguir perpetuando un régimen de impunidad. 
¿Cómo era tu vida antes de la causa armada?
Mi vida antes de esto era muy distinta, porque activo en el ámbito cultural, siendo  parte de un espacio denominado Sudaka, ubicado en Solano, donde como del Hip Hop organizaba diferentes eventos allí y en distintas plazas de Quilmes, Burzaco, Lanús, Varela Entendiendo al arte como una herramienta que puede ser importante para brindar solidaridad, entre otras cosas proponíamos una entrada solidaria, como la entrega de alimentos para ayudar a los comedores. 
De no estar hoy privada de mi libertad yo estaría trabajando en la peluquería, que abría a las 9 y cerraba a las 18, yendo después al profesorado hasta las 22. Cursaba en el Instituto 83 de San Francisco Solano, pudiendo continuar este año de manera virtual, dando algunos finales y encarando un curso sobre cooperativismo, que finalmente terminé. En ese marco, hubo un cambio enorme en mi familia, que siendo impulsada a activar en la calle por mi libertad y a acompañar a otras causas y luchas, la convirtió en un núcleo militante, algo que yo ya hacía y que hoy nos une aún más.
Ocupo mi tiempo pensando nuevas ideas para la campaña por mi libertad, conectándome con gente que ha vivido situaciones similares. Siempre resalto a aquellos/as que hoy no pueden tener voz, como Cristina Vázquez que estuvo 11 años presa, en un caso que llegó a trascender. ¡Cuando consiguió su libertad, no pudo superar la situación y se suicidó! No tenía trabajo ni estudio, la justicia, que es de clase, la castigó eso. Es que estamos ante una justicia patriarcal, que se maneja de forma atroz con las mujeres, con leyes creadas por los hombres, por eso el peso de la ley sobre nosotras es enorme.
¿Cómo sigue la campaña por tu Libertad?
Hoy la campaña por mi libertad  ha crecido, contexto en el que me asumo como una presa política, porque mi detención responde a una política de estado, que es sostenida y defendida  por los distintos gobiernos de turno. Muchas organizaciones se han expresado por mi libertad, incluida Norita Cortiñas, que forma parte de las Madres de Plaza de Mayo. Además de movilizar estamos impulsando una campaña de firmas, que fue presentada ante el Juez.
Ahora yo soy militantes de Defensorías de Genero, una organización feminista, y también de Convergencia Socialista. En las últimas marchas -de fin del año pasado- cientos de manifestantes se concentraron frente a las puertas del Juzgado de Quilmes. ¡A ellos y ellas quiero agradecerles e invitarlos/as para que se sigan sumando, asumiendo que lo que me pasó a mí puede ocurrirle a cualquier trabajador/a o joven! Es clave unirnos y luchar, porque de lo contrario resulta difícil hacerle frente a la policía y a todo el sistema judicial. Pueden seguir la causa y la campaña a través de la página de Facebook: Libertad para Karen Marín y la de Defensorías de Géneros.