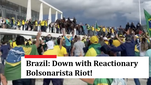 For the independent worker mobilization against Bolsonarismo and for the withdrawal of the repressive forces from the streets! No political support for the Lula government!
Statement of the Revolutionary Communist International Tendency (jointly adopted by the International Bureau and the Brazilian and Argentinean sections), 10 January 2023, www.thecommunists.net
1.           On Sunday, 9 January, thousands of ex-President Jair Bolsonaro's supporters stormed Congress, the Supreme Court and presidential palace. This riot ended after a few hours as the police expelled them and arrested about 300 demonstrators. President Luiz Inacio Lula da Silva, who had been inaugurated on 1 January, denounced the rioters "fascists, fanatics" and said they would be punished "with the full force of law." He declared a federal security intervention in Brasilia which shall last until 31 January.
2.           We do not consider this riot as an attempted coup d'état. A coup requires a serious attempt to take over the state apparatus, not the vandalising of some government building. In fact, this was a reactionary mobilisation of the most militant, (semi-)fascist sector of the Bolsonaro supporters. However, they did not have the support of Bolsonaro himself (he had cowardly fled the country two days before Lula's inauguration), of his party or of the armed forces. Without such support, this riot could not be more than a reactionary protest against the loss of the elections.
3.           While this was not an attempted coup d'état, it was clearly a reactionary mobilisation which shows the existence of a militant and dangerous sectors of (semi-)fascist forces. The workers and popular organisations must understand this as a serious warning! However, in contrast to the reformists, we insist that the struggle against the right-wing threat must not be delegated to the capitalist state and its armed forces. This is why the left must not support Lula's decision to militarise Brasilia. Strengthening the power of the armed forces of the capitalist state might hit the Bolsonaristas today but, surely, will hit the left-wing parties tomorrow! Instead, socialists should agitate for the trade unions, popular organizations and left-wing parties to mobilize in the streets and to smash the reactionary scum via direct action. At the same time, socialists need to prepare for attacks of the capitalist state apparatus by the current Lula government against the workers and popular movement which can take place pretty soon.
4.           At the same time, we warn that left-wing forces must lend no trust in the Lula government. This is a government which rules the country in the interest of the monopolies and imperialist powers. There is no doubt that – similar to the Biden-Administration in the U.S. – the government will utilise the reactionary Bolsonarista riot to deflect from its own anti-popular policy. The left-wing forces must fight any semi-fascist mobilization, like the one that happened in Brasilia. However, we insist that in the coming period it will be those in power, i.e. the Lula government, which will carry out the political and economic attacks on the working class and which will command the armed forces. Any idea that those who command power and guns would be "a lesser evil" compared to the right-wing forces are thoroughly mistaken!
¡Por la movilización obrera independiente contra el bolsonarismo y por el retiro de las fuerzas represivas de las calles! ¡Ningún apoyo político al gobierno de Lula!
Declaración de la Corriente Comunista Revolucionaria Internacional (adoptada conjuntamente por el Buró Internacional y las secciones brasileña y argentina), 10 de enero de 2023, www.thecommunists.net
1. El domingo 9 de enero, miles de simpatizantes del ex presidente Jair Bolsonaro irrumpieron en el Congreso, la Corte Suprema y el palacio presidencial. Este motín terminó a las pocas horas cuando la policía los expulsó y arrestó a unos 300 manifestantes. El presidente Luiz Inacio Lula da Silva, quien asumió el cargo el 1 de enero, denunció a los alborotadores como "fascistas, fanáticos" y dijo que serían castigados "con toda la fuerza de la ley". Declaró una intervención de seguridad federal en Brasilia que durará hasta el 31 de enero.
2. No consideramos este motín como un intento de golpe de Estado. Un golpe requiere un intento serio de apoderarse del aparato estatal, no el vandalismo de algún edificio del gobierno. De hecho, esta fue una movilización reaccionaria del sector (semi) fascista más militante de los partidarios de Bolsonaro. Sin embargo, no contaban con el apoyo del propio Bolsonaro (había huido cobardemente del país dos días antes de la toma de posesión de Lula), de su partido ni de las fuerzas armadas. Sin ese apoyo, este motín no podría ser más que una protesta reaccionaria contra la pérdida de las elecciones.
3. Si bien esto no fue un intento de golpe de Estado, fue claramente una movilización reaccionaria que muestra la existencia de sectores militantes y peligrosos de las fuerzas (semi-) fascistas. ¡Las organizaciones obreras y populares deben entender esto como una seria advertencia! Sin embargo, a diferencia de los reformistas, insistimos en que la lucha contra la amenaza de la derecha no debe delegarse en el estado capitalista y sus fuerzas armadas. Por eso la izquierda no debe apoyar la decisión de Lula de militarizar Brasilia. ¡Fortalecer el poder de las fuerzas armadas del estado capitalista podría golpear a los bolsonaristas hoy pero, seguramente, golpeará a los partidos de izquierda mañana! En cambio, los socialistas deberían hacer campaña para que los sindicatos, las organizaciones populares y los partidos de izquierda se movilicen en las calles y aplasten a la escoria reaccionaria a través de la acción directa. Al mismo tiempo, los socialistas deben prepararse para los ataques del aparato estatal capitalista por parte del actual gobierno de Lula contra los trabajadores y el movimiento popular que pueden tener lugar muy pronto.
4. Al mismo tiempo, advertimos que las fuerzas de izquierda no deben confiar en el gobierno de Lula. Este es un gobierno que gobierna el país en interés de los monopolios y las potencias imperialistas. No hay duda de que, al igual que la Administración Biden en los EE. UU., el gobierno utilizará el motín reaccionario bolsonarista para desviarse de su propia política antipopular. Las fuerzas de izquierda deben combatir cualquier movilización semifascista, como la que sucedió en Brasilia. Sin embargo, insistimos en que en el próximo período serán los que están en el poder, es decir, el gobierno de Lula, los que realizarán los ataques políticos y económicos a la clase obrera y los que comandarán las fuerzas armadas. ¡Cualquier idea de que aquellos que dominan el poder y las armas serían "un mal menor" en comparación con las fuerzas de derecha está completamente equivocada!
Pela mobilização dos trabalhadores independentes contra o bolsonarismo e pela retirada das forças repressivas das ruas! Nenhum apoio político ao governo Lula!
Declaração da Corrente Comunista Revolucionária Internacional (adoptada conjuntamente pelo Bureau Internacional e pelas seções brasileira e argentina), 10 de janeiro de 2023, www.thecommunists.net
1. No domingo, 9 de janeiro, milhares de apoiadores do ex-Presidente Jair Bolsonaro invadiram o Congresso, o Supremo Tribunal e o Palácio do Planalto. Este tumulto terminou após algumas horas, quando a polícia os expulsou e prendeu cerca de 300 manifestantes. O Presidente Luiz Inácio Lula da Silva, que tinha tomou posse em 1 de janeiro, denunciou os desordeiros como "fascistas, fanáticos" e disse que seriam punidos "com toda a força da lei". Declarou uma intervenção de segurança federal em Brasília, que durará até 31 de janeiro.
2. Não consideramos este tumulto como uma tentativa de golpe de estado. Um golpe requer uma tentativa séria de tomar o aparelho de Estado, e não a vandalização de algum edifício governamental. Na verdade, esta foi uma mobilização reacionária do sector mais militante e (semi-)fascista dos apoiantes bolsonaristas. Contudo, eles não tiveram o apoio do próprio Bolsonaro (ele havia fugido covardemente do país dois dias antes da tomada de posse de Lula), do seu partido ou das forças armadas. Sem esse apoio, este tumulto não conseguiu ser mais do que um protesto reacionário contra a derrota nas eleições.
3. Embora não tenha sido uma tentativa de golpe de Estado, foi claramente uma mobilização reacionária que mostra a existência de setores militantes e perigosos de forças (semi-)fascistas. Os trabalhadores e as organizações populares devem entender isto como um aviso sério! No entanto, ao contrário dos reformistas, insistimos que a luta contra a ameaça da direita não deve ser delegada no Estado capitalista e nas suas forças armadas. É por isso que a esquerda não deve apoiar a decisão de Lula de militarizar Brasília. O reforço do poder das forças armadas do Estado capitalista pode atingir hoje os bolsonaristas, mas certamente, atingirá amanhã os partidos de esquerda! Em vez disso, os socialistas devem agitar para que os sindicatos, organizações populares e partidos de esquerda se mobilizem nas ruas e esmaguem a escória reacionária através da ação direta. Ao mesmo tempo, os socialistas precisam se preparar para os ataques do aparelho capitalista do Estado pelo atual governo Lula contra os trabalhadores e o movimento popular, que pode ocorrer muito em breve.
4. Ao mesmo tempo, advertimos que as forças de esquerda não devem dar nenhuma confiança ao governo Lula. Este é um governo que governa o país no interesse dos monopólios e das potências imperialistas. Não há dúvida de que - à semelhança da Administração Biden nos EUA - o governo irá utilizar o tumulto bolsonarista reacionário para desviar a atenção da sua própria política anti-popular. As forças de esquerda devem combater qualquer mobilização semifascista, como a que ocorreu em Brasília. Contudo, insistimos que no próximo período serão os que estarão no poder, ou seja, o governo Lula, a realizar os ataques políticos e económicos à classe trabalhadora e a comandar as forças armadas. Qualquer ideia de que aqueles que comandam o poder e as armas seriam "um mal menor" em comparação com as forças de direita está completamente enganada!
자본가 국가 군경에 의한 진압이 아니라 노동자 독자 행동으로 분쇄!
- 보안군 수도 진주에 반대한다!
- 독점자본과 제국주의의 이익에 봉사하는 룰라 정부에 어떠한 정치적 지지도 주어선 안 된다!
혁명적공산주의인터내셔널동맹 성명 (RCIT 브라질 지부와 아르헨티나 지부 & 국제사무국 공동 채택), 2023년 1월 10일, www.thecommunists.net
1. 1월 8일, 대선에서 지고 국외로 도망간 보우소나루의 지지자 수천 명이 의회와 대법원, 대통령궁을 습격했다. 경찰의 진압으로 폭동은 몇 시간 만에 끝났다. 1월 1일 취임한 룰라 대통령은 폭도들을 "파시스트, 광신도"라고 비난하며, "법의 힘을 다해" 처벌할 것이라고 말했다 또 1월 31일까지 연방보안군을 수도 브라질리아에 투입하겠다고 발표했다.
2. 이 폭동을 (불발) 쿠데타로 간주하는 것은 맞지 않다고 본다. 국가기구를 장악 접수하기 위한 조직적 시도 없이 그냥 정부 건물에 난입하여 부수고 파손하는 폭동을 쿠데타 시도로 규정하는 것은 양아치 난동을 너무 높게 평가해주는 것이다. 보우소나루 지지자들 중 가장 호전적이고 파쇼적인 부분이 결집하여 동원된 것임은 분명하지만, 그들은 보우소나루와 그의 당의 동조도 받지 못했고, 군대와 경찰의 지지도 받지 못했다. 그러한 지지가 없는 한 이 폭동이 선거 패배에 불복 반발하는 난동 이상으로 진지한 쿠데타일 수가 없다.
3. 쿠데타 시도는 아니었지만, 군사적으로 위험한 (준)파시스트 세력의 존재를 보여주는 반동적 집결 동원이었다는 점에서 노동자·민중 조직들은 이를 심각한 경고로 받아들여야 한다! 개량주의자들과는 달리, 우리 혁명주의자들은 우익 위협에 대항하는 투쟁을 자본가 국가와 그 무장력 (군대·경찰)에 위임해서는 안 된다고 주장한다. 1월 말까지 수도 브라질리아에 연방보안군을 진주시켜 모종의 군 계엄령을 실시하겠다는 룰라의 결정을 좌파가 지지해서는 안 되는 이유다. 자본가국가 군경의 힘을 강화하는 것은 오늘 보우소나루 파쇼 지지자들을 타격할 수 있을지 모르지만, 분명 내일 좌파 세력들을 박살내는 힘을 키우는 것이 될 것이다! 사회주의자들은 노동조합, 민중단체, 좌파 정당들이 거리로 나서 직접행동으로 반동 깡패 양아치들을 분쇄할 것을 촉구한다. 동시에 사회주의자들은 곧 룰라 정부의 군경을 비롯한 억압 국가기구를 동원한 노동자·민중 운동에 대한 공격에 대비해야 한다.
4. 이와 함께 우리는 좌파 세력이 룰라 정부에 어떠한 신뢰도 주어선 안 된다고 경고하는 바다. 이 정부는 독점자본과 제국주의 열강의 이익을 위해 봉사하는 정부다. 미국의 바이든 정부와 비슷하게도, 룰라 정부는 자신의 인기 없는 반민중적 정책에 대한 인민대중의 불만을 호도하기 위해 이 반동 폭동을 이용할 것이다. 좌파 세력은 이번 폭동과 같은 파쇼적 세력의 동원 일체에 대응해서 싸워야 한다. 그러나 앞으로, 노동자계급에 대한 정치적·경제적 공격을 집행하고 군경 등 무장력을 지휘하는 것은 권력자, 즉 룰라 정부라는 것을 망각해선 안 된다. 권력과 총을 지휘하는 자들이 우익 세력에 비해 "차악"일 것이라는 생각은 잘못돼도 완전히 잘못된 생각이다.
Никакой политической поддержки правительству Лулы!
Заявление РКИТ (принятое Международным бюро и бразильской и аргентинской секциями), 10 января 2023 года, www.thecommunists.net
1. В воскресенье, 9 января, тысячи сторонников экс-президента Жаира Болсонару ворвались в Конгресс, Верховный суд и президентский дворец. Эти беспорядки закончились через несколько часов, когда полиция изгнала протестующих и арестовала около 300 демонстрантов. Президент Луис Инасио Лула да Силва, вступивший в должность 1 января, осудил участников беспорядков как "фашистов и фанатиков" и заявил, что они будут наказаны "по всей строгости закона". Он объявил о введении в Бразилиа режима федеральной безопасности, который продлится до 31 января.
2. Мы не рассматриваем эти беспорядки как попытку государственного переворота. Для переворота необходима серьезная попытка захвата государственного аппарата, а не вандализм в каком-то правительственном здании. По сути, это была реакционная мобилизация наиболее воинственного, (полу)фашистского сектора сторонников Болсонару. Тем не менее, они не пользовались поддержкой самого Болсонару, который трусливо убежал из страны за два дня до инаугурации Лулы), его партии или вооруженных сил. Без такой поддержки эти беспорядки могли быть не более чем реакционным протестом против поражения на выборах.
3. Хотя это не было попыткой государственного переворота, это была явно реакционная мобилизация, которая показывает существование воинственного и опасного сектора (полу)фашистских сил. Рабочие и народные организации должны понять это как серьезное предупреждение! Однако, в отличие от реформистов, мы настаиваем на том, что борьба против правой угрозы не должна быть делегирована капиталистическому государству и его вооруженным силам. Именно поэтому левые не должны поддерживать решение Лулы о милитаризации Бризилии. Укрепление мощи вооруженных сил капиталистического государства может ударить по больсонаристам сегодня, но, несомненно, ударит по левым партиям завтра! Вместо этого социалисты должны агитировать профсоюзы, народные организации и левые партии мобилизоваться на улицах и разгромить реакционную мразь прямыми действиями. В то же время социалисты должны готовиться к атакам капиталистического государственного аппарата нынешнего правительства Лулы против рабочих и народного движения, которые могут произойти довольно скоро.
4. В то же время мы предупреждаем, что левые силы не должны доверять правительству Лулы. Это правительство, которое управляет страной в интересах монополий и империалистических держав. Нет сомнений, что, подобно администрации Байдена в США, правительство будет использовать реакционный бунт болсонаристов, чтобы отвлечь внимание от своей собственной антинародной политики. Левые силы должны бороться с любой полуфашистской мобилизацией, подобной той, что произошла в Бразилиа. Тем не менее, мы настаиваем на том, что в предстоящий период именно те, кто находится у власти, то есть правительство Лулы, будут осуществлять политические и экономические атаки на рабочий класс и командовать вооруженными силами. Любая идея о том, что те, кто обладает властью и оружием, будут "меньшим злом" по сравнению с правыми силами, глубоко ошибочна!