Announcement of the Revolutionary Communist International Tendency (RCIT) plus Declaration of the Conference of Convergencia Socialista, 19.7.2021, www.thecommunists.net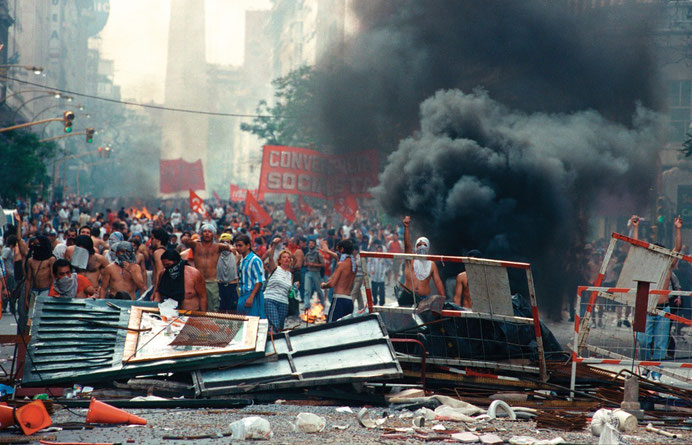 Convergencia Socialista during the popular uprising in Argentina  in December 2001
A conference of delegates of Convergencia Socialista (Argentina), taking place on 18 July, discussed the issue of fusion with the Revolutionary Communist International Tendency (RCIT). The conference was also attended by several representatives of the RCIT. At the end of the discussion, the delegates voted unanimously in favor of fusion. (See the CS resolution below.) From now on, Convergencia Socialista will be the Argentinean section of the RCIT.
In addition, comrades discussed about the mass mobilizations in Cuba against the Stalinist-capitalist regime. CS and the RCIT consider these protests as a crucial event in international and, in particular, in the Latin American class struggle, as we have explained in a number of statements and articles. [1]
Comrades pointed out in contributions the counter-revolutionary role of Stalinism – something which has been highlighted very concretely by the recent death threats by Stalinist thugs against Gabriela Capurro, a female leader of CS. [2]
We consider the fusion of our organizations as one of the most important steps forward in the history of the RCIT! In the past few months, we have reached agreement – documented in joint statements – on numerous important issues of world politics and international class struggle. These agreements include, among others, our analysis and program of the COVID-19 Counterrevolution, the inter-imperialist rivalry of the Great Powers (U.S., China, EU, Russia and Japan), the popular uprisings in Palestine, Burma-Myanmar, Colombia, Cuba, etc.
Convergencia Socialista is a long-standing Trotskyist organization with a historical cadre coming from the tradition associated with Nahuel Moreno – the largest and most influential current of Latin American Trotskyism. The comrades carry out an impressive range of propagandistic as well as practical activities. Among these are the publications of 2-3 articles per day on their website (https://convergenciadecombate.blogspot.com/), two TV shows every week [3], trade union work in factories and schools, organization of protest activities of artists against the bourgeois Lockdown policy [4], as well as systematic campaigning activities among working class women [5]. They have initiated the women's organization Defensorías de Géneros and one of their members, Karen Marín, has been imprisoned for almost two years for defending herself from the attack of a gang. [6] As a result of their courageous activities, the organization has grown and includes both a nuclei of long-standing Trotskyist cadres as well as a number of younger militants, among them many women comrades.
The fusion between our organization takes place at a turning point in world politics. One does not need to be an Einstein to recognize the deep crisis of capitalism, the dramatic turmoil in the imperialist world order and the explosive nature of the class struggle. Just look back to the last two years! The wave of popular uprising beginning in summer 2019 – spreading around the globe from Hong Kong and India to Ecuador and Chile. Then the counter-revolutionary offensive in spring 2020 under the cover of the pandemic. And from summer 2020 again a rising tide of struggle and uprising. [7]
The world we live in is unrecognizable compared with the world 2-3 years ago. And how will the world look like in 2024?! Naturally, we don't know in detail but we have no doubt that it will be characterized by substantially more wars, counterrevolutionary attacks of the ruling class and revolutionary insurrections.
To those who are aware of the nature of the current period, those who are not cynical bystanders, those who refuse the poison of Stalinism and corrupted populism, those who are not satisfied with centrist confusion and opportunist adaption to the labor bureaucracy – to those we say: do not lose any time, study our program and join the RCIT! [8] We have a world to win – but we can only win it if we start to organize and fight NOW!
* * * * *
Convergencia Socialista: Resolution on Joining the RCIT
When we decided, from Convergencia Socialista (Socialist Convergence), to denounce the policy of restrictions and quarantines imposed by the world bourgeoisie, through the WHO and capitalist governments of all colors, we were left alone trying to make contact with forces resistant to this tremendous pressure, that brought practically the entire left to its knees in the face of imperialism.
At that moment we said that we were like the revolutionaries who proposed a defeatist policy in the face of the carnage of the First War, fighting hand in hand against social-chauvinism, which now reappears behind the call to "take care of health" before all, which means once again capitulating to the local bourgeoisies and their "stay at home" policies.
Rowing "against the current" we meet the comrades of the Revolutionary Communist International Tendency (RCIT), which spoke out against the Lockdown policy since its beginning and which elaborated a book that will be, from now on, key to the construction of the Revolutionary World Party: "The COVID-19 Counterrevolution". The general agreement on this text and with the CCRI program was expressed in the joint statements that we have published about Burma, Colombia and other issues.
In these joint statements we responded with the methods of Trotskyist politics and the Transitional Program, to central events of the class struggle. Furthermore, we also agreed on theoretical and programmatic issues like the characterization of China and Russia as imperialist countries. These powers are fighting for their place in the world economy with methods of a great war. While this war is currently conducted by commercial means, its intensification will eventually result in military clashes.
To these coincidences we must add the intention to develop our relations based on a proletarian method, with healthy discussions and without factional maneuvers, as other groups that claim to adhere to the banner of Trotskyism or the socialist revolution tend to do. All this means that the fusion, which we will resolve in our International Conference, is based on solid pillars, which we will have to consolidate by intervening boldly in the next events of the class struggle.
In that sense, what is happening in Cuba is not just any event, but one of the most important ones in the current period. It creates a deep gulf in the left, since a sector, instead of supporting the just demands of the mobilized people, has come out to attack them. These sectors call for repression, using the Stalinist excuse of "Yankee interference" or "worms". Our principled position is, in this context, a quality leap in the construction of an international leadership collective.
For these reasons, our conference resolves: to accept the fusion proposal put forward by the comrades of the Revolutionary Communist International Tendency, joining us in continuing to give socialist responses and contributing to the construction of a Revolutionary General Staff, without which and without a coherent program, there will be no final victory for the working class and the people in the next insurrections.
In order to help the proletariat taking power, we will have to raise slogans against the plans of adjustment, robbery and repression, proposing the method of direct action – which includes the formation of militias – and the setting up of organs of self-organization bodies, "Soviets", without which it will not be possible to advance towards Socialism, since a new society without exploited or exploiters is inconceivable without the exercise of direct democracy by the mass movement.
---
Anuncio de la Corriente Comunista Revolucionaria Internacional (CCRI) más Declaración de la Conferencia de Convergencia Socialista, 19 de julio de 2021, www.thecommunists.net

Una conferencia de delegados de Convergencia Socialista (Argentina), que tuvo lugar el 18 de julio, discutió el tema de la fusión con la Corriente Comunista Revolucionaria Internacional (CCRI). A la conferencia también asistieron varios representantes de la CCRI. Al final de la discusión, los delegados votaron por unanimidad a favor de la fusión. (Ver la resolución de la CS a continuación). A partir de ahora, Convergencia Socialista será la sección argentina de la CCRI.
Además, los compañeros discutieron sobre las movilizaciones de masas en Cuba contra el régimen capitalista estalinista. CS y la CCRI consideran estas protestas como un evento crucial en la lucha de clases internacional y, en particular, en América Latina, como hemos explicado en una serie de declaraciones y artículos. [1]
Los camaradas señalaron en sus contribuciones el papel contrarrevolucionario del estalinismo, algo que ha sido destacado de manera muy concreta por las recientes amenazas de muerte de los matones estalinistas contra Gabriela Capurro, una líder del CS. [2]
¡Consideramos la fusión de nuestras organizaciones como uno de los pasos adelante más importantes en la historia de la CCRI! En los últimos meses, hemos llegado a un acuerdo, documentado en declaraciones conjuntas, sobre numerosos temas importantes de la política mundial y la lucha de clases internacional. Estos acuerdos incluyen, entre otros, nuestro análisis y programa de la Contrarrevolución COVID-19, la rivalidad interimperialista de las Grandes Potencias (EE.UU., China, UE, Rusia y Japón), los levantamientos populares en Palestina, Birmania-Myanmar, Colombia, Cuba, etc.
Convergencia Socialista es una organización trotskista que tiene varios años, con un cuadro histórico proveniente de la tradición asociada con Nahuel Moreno, la corriente más grande e influyente del trotskismo latinoamericano. Los camaradas llevan a cabo una impresionante variedad de actividades tanto propagandísticas como prácticas. Entre estos se encuentran las publicaciones de 2-3 artículos por día en su sitio web (https://convergenciadecombate.blogspot.com/), dos programas de televisión cada semana [3] , trabajo sindical en fábricas y escuelas, organización de actividades de protesta de artistas contra la política burguesa de bloqueo [4] , así como actividades de campaña sistemáticas entre las mujeres de la clase trabajadora [5] . Han iniciado la organización de mujeres, Defensorías de Géneros y una de sus integrantes, Karen Marín, lleva casi dos años encarcelada por defenderse del ataque de una pandilla. [6] Como resultado de sus valientes actividades, la organización ha crecido e incluye tanto un núcleo de cuadros trotskistas de larga data como un número de militantes más jóvenes, entre ellos muchas compañeras.
La fusión de nuestra organización se produce en un momento decisivo de la política mundial. No es necesario ser un Einstein para reconocer la profunda crisis del capitalismo, la dramática agitación en el orden mundial imperialista y la naturaleza explosiva de la lucha de clases. ¡Mire hacia atrás a los últimos dos años! La ola de levantamiento popular que comenzó en el verano de 2019 y se extendió por todo el mundo desde Hong Kong e India hasta Ecuador y Chile. Luego, la ofensiva contrarrevolucionaria en la primavera de 2020 bajo el cobijo de la pandemia. Y a partir del verano de 2020 nuevamente una marea creciente de lucha y levantamiento. [7]
El mundo en el que vivimos es irreconocible en comparación con el mundo de hace dos o tres años. ¡¿Y cómo será el mundo en 2024?! Naturalmente, no lo sabemos en detalle, pero no tenemos dudas de que se caracterizará por un número sustancialmente mayor de guerras, ataques contrarrevolucionarios de la clase dominante e insurrecciones revolucionarias.
A los que conocen la naturaleza del período actual, a los que no son espectadores cínicos, a los que rechazan el veneno del estalinismo y al populismo corrupto, a los que no se conforman con la confusión centrista y la adaptación oportunista a la burocracia laboral, a los que di: ¡no pierdas tiempo, estudia nuestro programa y únete a la CCRI! [8] Tenemos un mundo que ganar, ¡pero solo podemos ganarlo si empezamos a organizarnos y luchar AHORA!
* * * * *
Resolución: CS se incorpora a la CCRI
Cuando decidimos, desde Convergencia Socialista, salir a denunciar la política de restricciones y cuarentenas impuesta por la burguesía mundial, a través de la OMS y los gobiernos capitalistas de todos los colores, quedamos en soledad intentando tomar contacto con fuerzas resistentes a esta presión tremenda, que puso a prácticamente toda la izquierda de rodillas frente al imperialismo.
En ese momento dijimos que estábamos como los revolucionarios y las revolucionarias que propusieron una política derrotista frente a la carnicería de la Primera Guerra, luchando a brazo partido contra el social-chovinismo, que ahora reaparece detrás del llamado a "cuidar la salud" antes que todo, lo que significa volver a capitularles a las burguesías locales y a sus políticas del "quedate en casa".
Remando "contra la corriente" nos encontramos con los compañeros y las compañeras de la Corriente Comunista Revolucionaria Internacional, que apenas comenzaron los confinamientos se pronunciaron en su contra, elaborando un texto que será, de acá en más, clave para la construcción del Partido Mundial de la Revolución: "Contrarrevolución Covid". La coincidencia general sobre este texto y con el programa de la CCRI, se expresaron en las declaraciones conjuntas que hemos publicado acerca de Birmania, Colombia y otras.
Allí respondimos con políticas trotskistas, de carácter transicional, a acontecimientos centrales de la lucha de clases, respuesta que también dimos en términos teórico programático, al caracterizar a China y Rusia como países imperialistas, que están peleando su lugar en la economía mundial, dentro de una gran guerra, que aunque hoy por hoy es comercial, tiende a intensificarse, dando lugar a un desarrollo militar.
 A estas coincidencias se les debe sumar la intención de desarrollar nuestras relaciones en base a un método proletario, con discusiones sanas y sin maniobras facciosas, como suelen hacer otros grupos que se reivindican del trotskismo o la revolución socialista. Todo esto da lugar a que la fusión, que resolveremos en nuestra Conferencia Internacional, se apoyen en pilares sólidos, que tendremos que consolidar interviniendo con audacia en los próximos acontecimientos de la lucha de clases.
En ese sentido, lo que está sucediendo en Cuba no es cualquier suceso, sino uno de los más trascendentes del actual período, que divide aguas en la izquierda, ya que un sector, en vez de apoyar los justos reclamos del pueblo movilizado, ha salido a atacarlos reclamando que se los reprima, utilizando la excusa estalinista de la "injerencia yanqui" o "gusana". Nuestro posicionamiento principista es, en ese contexto, un salto de calidad en la construcción de un equipo de dirección internacional.
Por esas razones, nuestra Conferencia resuelve: aceptar la propuesta de fusión planteada por los camaradas de la Corriente Comunista Revolucionaria Internacional, incorporándonos para continuar dando respuestas socialistas y jugarnos a construir el Estado Mayor de la Revolución, sin el cual y sin un programa coherente, no habrá victoria definitiva de la clase trabajadora y el pueblo en las próximas insurrecciones.
Para que ayudar a que el proletariado se haga cargo del poder, tendremos que levantar consignas contra los planes de ajuste, saqueo y represión, proponiendo el método de la acción directa -que incluye la formación de milicias- y la puesta en pie de órganos de autoorganización, "soviéticos", sin los cuales no se podrá avanzar hacia el Socialismo, ya que una nueva sociedad sin explotados ni explotadores, es inconcebible sin el ejercicio de la democracia directa por parte del movimiento de masas.
---
Anúncio da Corrente Comunista Revolucionária Internacional (RCIT) mais a Declaração da Conferência da Convergencia Socialista, 19.7.2021, www.thecommunists.net

Uma conferência de delegados da Convergencia Socialista (Argentina), realizada em 18 de julho, discutiu a questão da fusão com a Corrente Comunista Revolucionária Internacional (CCRI/RCIT). A conferência também contou com a presença de vários representantes da CCRI/RCIT. No final da discussão, os delegados votaram unanimemente a favor da fusão. (Veja a resolução da CS abaixo.) A partir de agora, Convergencia Socialista será a seção argentina do CCRI/RCIT.
Além disso, os camaradas discutiram sobre as mobilizações de massa em Cuba contra o regime stalinista-capitalista. A CS e a CCRI consideram esses protestos como um evento crucial na luta de classes internacional e, em particular, na América Latina, como explicamos em uma série de declarações e artigos. [1]
Os camaradas destacaram em suas contribuições o papel contra-revolucionário do Estalinismo - algo que foi destacado muito concretamente pelas recentes ameaças de morte de assassinos por parte de estalinistas contra Gabriela Capurro, uma líder feminina da CS. [2]
Consideramos a fusão das nossas organizações um dos mais importantes passos em frente na história da CCRI! Nos últimos meses, chegamos a um acordo - documentado em declarações conjuntas - em várias questões importantes da política mundial e da luta de classes internacional. Esses acordos incluem, entre outros, nossa análise e programa da Contra-revolução COVID-19, a rivalidade interimperialista das grandes potências (EUA, China, UE, Rússia e Japão), os levantes populares na Palestina, Birmânia-Mianmar, Colômbia, Cuba, etc.
A Convergência Socialista é uma organização trotskista de longa data com um quadro histórico proveniente da tradição associada a Nahuel Moreno - a maior e mais influente corrente do trotskismo latino-americano. Os camaradas realizam uma gama impressionante de atividades propagandísticas e práticas. Entre eles estão as publicações de 2-3 artigos por dia em seu site (https://convergenciadecombate.blogspot.com/ ), dois programas de TV por semana [3] , trabalho sindical em fábricas e escolas, organização de atividades de protesto de artistas contra a política burguesa de bloqueio [4] , bem como atividades sistemáticas de campanha entre as mulheres da classe trabalhadora [5] . Eles iniciaram a organização de mulheres Defensorías de Géneros e um de seus membros, Karen Marín, está preso há quase dois anos por se defender de um ataque de uma gangue. [6] Como resultado de suas atividades corajosas, a organização cresceu e inclui tanto um núcleo de quadros trotskistas de longa data como também uma série de militantes mais jovens, entre eles muitas camaradas mulheres.
A fusão entre nossa organização ocorre em um momento decisivo na política mundial. Não é preciso ser um Einstein para reconhecer a profunda crise do capitalismo, a dramática turbulência na ordem mundial imperialista e a natureza explosiva da luta de classes. Basta olhar para os últimos dois anos! A onda de levantes populares começando no verão de 2019 - espalhando-se pelo globo, de Hong Kong e Índia ao Equador e Chile. Em seguida, a ofensiva contra-revolucionária na primavera de 2020 sob o manto da pandemia. E a partir do verão de 2020 novamente uma maré crescente de lutas e levantes. [7]
O mundo em que vivemos é irreconhecível em comparação com o mundo de 2-3 anos atrás. E como será o mundo em 2024?! Naturalmente, não sabemos em detalhes, mas não temos dúvidas de que será caracterizado por substancialmente mais guerras, ataques contra-revolucionários da classe dominante e insurreições revolucionárias.
Para aqueles que estão cientes da natureza do período atual, aqueles que não são espectadores cínicos, aqueles que recusam o veneno do Estalinismo e do populismo corrupto, aqueles que não se contentam com a confusão centrista e a adaptação oportunista à burocracia trabalhista - a eles nós dizemos: não percam tempo, estudem nosso programa e participem da CCRI/RCIT! [8] Temos um mundo a conquistar - mas só podemos vencê-lo se começarmos a nos organizar e lutar AGORA!
* * * * *
Convergencia Socialista: Resolução sobre a adesão à CCRI/RCIT
Quando decidimos, a partir da Convergencia Socialista, denunciar a política de restrições e quarentenas impostas pela burguesia mundial, através da OMS e dos governos capitalistas de todas as cores, ficamos sozinhos tentando fazer contato com forças resistentes a esta tremendo pressão, que colocou praticamente toda a esquerda de joelhos perante o imperialismo.
Naquele momento dissemos que éramos como os revolucionários que propunham uma política derrotista diante da carnificina da Primeira Guerra, lutando de mãos dadas contra o social-chauvinismo, que agora reaparece por trás do chamado "cuidar da saúde" que antes de tudo, significa mais uma vez capitular às burguesias locais e às suas políticas de "ficar em casa".
Remando "contra a corrente" encontramos os camaradas da Corrente Comunista Revolucionária Internacional (CCRI/RCIT), que se manifestou contra a política de Lockdown desde o seu início e que elaborou um livro que será, a partir de agora, a chave para a construção do Partido Revolucionário Mundial: " À Contra-Revolução COVID-19". A concordância geral com este texto e com o programa da CCRI foi expressa nas declarações conjuntas que publicamos sobre a Birmânia, a Colômbia e outros assuntos.
Nessas declarações conjuntas, respondemos com os métodos da política trotskista e do Programa de Transição aos eventos centrais da luta de classes. Além disso, também concordamos em questões teóricas e programáticas, como a caracterização da China e da Rússia como países imperialistas. Essas potências estão lutando por seu lugar na economia mundial com métodos de uma grande guerra. Embora essa guerra seja atualmente conduzida por meios comerciais, sua intensificação acabará resultando em confrontos militares.
A essas coincidências devemos acrescentar a intenção de desenvolver nossas relações com base no método proletário, com discussões saudáveis e sem manobras fracionárias, como tendem a fazer outros grupos que pretendem aderir à bandeira do trotskismo ou da revolução socialista. Tudo isto significa que a fusão que resolveremos na nossa Conferência Internacional assenta em pilares sólidos, que teremos de consolidar intervindo com ousadia nos próximos acontecimentos da luta de classes.
Nesse sentido, o que está acontecendo em Cuba não é um evento qualquer, mas um dos mais importantes do período atual. Cria um profundo abismo na esquerda, pois um setor, ao invés de apoiar as justas demandas dos mobilizados, saiu para atacá-los. Esses setores clamam pela repressão, usando a desculpa stalinista de "interferência ianque" ou "vermes". A nossa posição de princípio é, neste contexto, um salto de qualidade na construção de um coletivo de liderança internacional.
Por estas razões, a nossa conferência resolve: aceitar a proposta de fusão apresentada pelos camaradas da Corrente Comunista Revolucionária Internacional, unindo-se a nós na continuação das respostas socialistas e contribuindo para a construção de um Estado-Maior Revolucionário, sem o qual e sem coerência programática, não haverá vitória final para a classe trabalhadora e para o povo nas próximas insurreições.
Para ajudar o proletariado a tomar o poder, teremos que erguer slogans contra os planos de ajustamento, do roubo e da repressão, propondo o método de ação direta - que inclui a formação de milícias - e a constituição de órgãos de auto-organização, os "sovietes", sem os quais não será possível avançar para o socialismo, já que uma nova sociedade sem explorados ou exploradores é inconcebível sem o exercício da democracia direta pelo movimento de massas.
[1] Todos os documentos do RCIT e CS em Cuba são compilados em uma sub-página especial em nosso site: https://www.thecommunists.net/worldwide/latin-america/cuba-solidarity-with-mass-protests-against -o regime-stalinista-capitalista/
[2] Veja nesta Argentina: Denuncie as Ameaças Estalinistas contra Gabriela Capurro! https://www.thecommunists.net/rcit/argentina-denounce-the-stalinists-threats-against-gabriela-capurro/
[3] Veja neste https://www.youtube.com/channel/UCXXmov7T7idAkI5XDZERUdg
[4] Veja, por exemplo, https://www.thecommunists.net/worldwide/latin-america/argentina-socialists-organize-artistic-protests-against-lockdown-policy/; veja também https://cs-arteyrevolucion.blogspot.com/
[5] Veja, por exemplo, http://culturacs.blogspot.com/
[6] Veja neste http://libertadescs.blogspot.com/2021/01/karen-marin-otra-causa-armada.html
[7] O RCIT lidou em várias ocasiões com a luta de classes global nos últimos dois anos e as consequências da Contra-revolução COVID-19. Aqui está nosso último artigo sobre isso, que também inclui referências a outras obras. Michael Pröbsting: Avaliações interessantes da luta global de classes por um grupo de reflexão burguês. Um comentário sobre as conclusões da última edição do "Índice Global da Paz" do "Instituto de Economia e Paz", 21 de junho de 2021, https://www.thecommunists.net/worldwide/global/interesting-assessments-of-a-luta-de-classe-global-por-um-think-tank burguês/.
[8] Nosso programa atual, adotado no III. Congresso Mundial do RCIT em abril de 2021, pode ser lido aqui em vários idiomas: https://www.thecommunists.net/rcit-fire-manifesto-2021/

혁명적 공산주의인터내셔널 동맹 (RCIT) 발표문 (+ 사회주의통합당 총회 결의안), 2021년 7월 19일, www.thecommunists.net
7월 19일 사회주의통합당 (CS 아르헨티나)은 대의원 총회를 개최하여 혁명적 공산주의인터내셔널 동맹 (RCIT)과의 통합 문제를 심의했다. 총회에는 RCIT 대표자들도 참석했다. 토론이 끝나고 대의원들은 RCIT 가입에 전원일치 찬성 표결했다. (아래 CS 결의문 참조.) 지금부터 사회주의통합당은 RCIT 아르헨티나 지부로 된다.
이어서 동지들은 스탈린주의-자본가 정권에 대항하는 쿠바 대중시위에 대해 논의했다. CS와 RCIT는 여러 성명과 기사에서 설명한 바와 같이 이 시위를 라틴아메리카 계급투쟁에서, 그리고 나아가 국제 계급투쟁에서 중요한 사건으로 보고 있다.[1]
동지들은 토론 속에서 스탈린주의의 반혁명적 역할을 여러 방면에서 지적했다. 최근 CS 여성 리더 가브리엘라 카푸로 동지에 대한 스탈린주의 깡패들의 살해 위협으로 이 반혁명적 역할이 특히 구체적으로 부각되었다.[2]
우리는 이번 통합이 RCIT 역사상 가장 중요한 일보전진이라고 본다! 지난 몇 달 동안 우리는 세계정치와 국제 계급투쟁의 여러 주요 사안에서 (공동성명들로 문서화된) 일치에 도달했다. 여기에는 무엇보다도 코로나19 반혁명, 제국주의 강대국 (미국, 중국, EU, 러시아, 일본) 패권쟁투, 그리고 팔레스타인, 미얀마, 콜롬비아, 쿠바 등에서의 민중항쟁·봉기에 대한 우리의 평가분석 및 프로그램이 포함된다.
CS는 오랜 활동 역사를 가진 트로츠키주의 조직으로서, 그 기간대오는 라틴아메리카 트로츠키주의에서 가장 크고 가장 영향력 있는 조류인 나후엘 모레노 전통에 연원을 둔 동지들이다. CS 동지들은 여러 영역에 걸친 인상적인 선전 및 실천 활동을 전개하고 있다. 이 중에는 CS 웹사이트 (https://convergenciadecombate.blogspot.com/) 상의 매일 2-3개의 기사·논설 발표가 있고, 매주 2편의 TV 방영[3], 공장에서 노동조합 및 현장 사업, 청년·학생 사회주의 조직 사업, 근래 자본주의 록다운 정책에 반대하는 예술가들의 항의시위 조직[4], 그리고 노동계급 여성 속에서의 체계적인 선전·조직 활동 등이 있다[5]. 또 여성폭력에 맞서 직접행동으로 싸우는 여성 정방대 (Defensorías de Géneros) 조직 활동을 전개했는데, 그 과정에서 폭력갱단의 공격에 맞서 싸운 죄목으로 정방대원 카렌 마린 동지가 지금 2년 가까이 구속되어 있다.[6] 그들의 용기 있는 활동의 결과로 조직이 성장하여, 기존의 오랜 혁명활동가 기간대오에 더해 다수의 젊은 투사들이 포함되어 있다.
통합이 이루어진 지금 시기는 세계정치의 전환점을 이루고 있는 시점이다. 자본주의의 깊은 위기, 제국주의 세계질서의 급격한 뒤흔들림, 계급투쟁의 폭발성을 특징으로 하는 현 시기 성격을 인식하는 데 고도의 통찰이 필요치 않을 것이다. 단지 지난 2년만을 돌아보라! 2019년 여름에 시작된 민중항쟁의 물결이 홍콩과 인도에서 에콰도르와 칠레에 이르기까지 전 세계로 퍼져나갔다. 그 뒤 2020년 봄 코로나19 확산을 엄폐물 삼아 전 세계 지배계급의 반혁명적 공세가 펼쳐졌다. 그리고 2020년 여름부터 다시 항쟁과 봉기의 밀물이 일기 시작했다.[7]
우리가 살고 있는 세계는 2~3년 전의 세계와 몰라볼 정도로 다르다. 그리고 2024년에 세계는 어떻게 보일까? 물론 세부적으로는 모르지만, 그러나 확실히 오늘보다 더 많은 전쟁과 지배계급의 반혁명적 공격과, 그리고 혁명적 봉기로 점철된 세계일 것이라는 데는 의심의 여지가 없다.
현 시기의 성격을 의식하고 있는 자들, 냉소적인 구경꾼들이 아닌 자들, 스탈린주의와 부패한 민중주의 (포퓰리즘)의 독을 거부하는 자들, 중도주의적 혼란에 만족하지 않는, 그리고 노동관료에 주파수를 맞추는 기회주의적 영합으로부터 단절하고자하는 자들, 이 모든 동지들에게 말씀 드린다. 시간을 더는 잃지 말자. RCIT의 노선, 강령·전술을 학습 연구하자. RCIT와 함께 하자![8] 우리에게는 쟁취할 세계가 있다. 그러나 우리가 지금, 바로 조직하고 싸우기 시작할 때, 그 때에만 비로소 우리는 세계를 쟁취할 수 있다!
* * * * *
사회주의통합당: RCIT 가입에 관한 결의(안)
세계 부르주아지가 모든 색조의 자본가 정부들을 통해 우리에게 들씌운 록다운 봉쇄 및 이동제한 정책을 우리가 규탄하고자 결정했을 때 우리는 전체 좌익 진영에서 홀로 남겨졌다, 사실상 좌익 전체를 제국주의 앞에 무릎 꿇린 이 거대한 압력에 맞서 저항하는 세력들과 접촉하고자 시도했을 때도 우리는 홀로였다.
그 때 우리는 1차 세계대전의 살육 앞에서 사회배외주의와 싸우며 패전주의 정책을 제안한 레닌 이하 소수파 혁명가들 같은 조건에 있다고 말한 바 있다. 사회배외주의는 지금 다시 한 번 '자'국 부르주아지에게 투항하는 것을 뜻하는 "집에 머물러 건강을 챙기고 거리두기를 지키자"는 깃발을 들고 재등장했다.
"흐름을 거슬러" 우리는 혁명적 공산주의인터내셔널 동맹 (RCIT)