Manifest Walki Wyzwoleńczej Robotników i Uciskanych

Przyjęta przez III Kongres Rewolucyjna Międzynarodowa Tendencja Komunistyczna (RCIT), Kwiecień 2021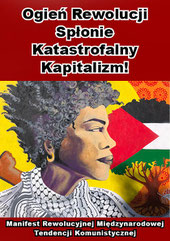 Uwaga wstępna
Manifest ten został omówiony i przyjęty podczas III. Kongres Rewolucyjnej Międzynarodowej Tendencji Komunistycznej (RCIT) w kwietniu 2021 r. Potwierdzenie metody i strategie poprzednich dokumentów programowych RCIT – "The Rewolucyjny Manifest Komunistyczny" (2012) odp. "Manifest Rewolucyjnego Wyzwolenia" (2016) – dokument ten stanowi aktualizację, która zmiany i wyzwania nowej ery.
Spis treści
Nowa era ofensywy kontrrewolucyjnej i Rewolucyjne wstrząsy

Potwór z państwa kapitalistycznego atakuje demokrację!
Pokonaj szowinizm i bonapartyzm!
Walcz z kontrrewolucją COVID-19!
Precz z autorytarnym państwem!
Brońmy ludzi kolorowych, mniejszości narodowych i muzułmanów!
Otwarte granice dla uchodźców!
Rywalizacja wielkich mocarstw i imperialistyczna agresja na południu: Zwróć broń przeciwko Panom Władzy i Pieniędzy!
Rewolucyjny defetyzm przeciwko wszystkim wielkim mocarstwom!
Konflikty i wojny między mocarstwami regionalnymi
Wojny narodowowyzwoleńcze ludzi uciskanych
Obrona naszych praw – walka o socjalistyczną przyszłość!
Ziemia chłopom! Wywłaszczaj wielkich właścicieli ziemskich!
Katastrofa klimatyczna spowodowana przez kapitalizm
Walka wyzwoleńcza przeciwko uciskowi kobiet i uciskowi seksualnemu!
O rząd robotniczy i biedny chłopski! O rewolucję socjalistyczną!
Kryzys rewolucyjnego przywództwa: Jak zorganizować i jak walczyć?
Nowa era ofensywy kontrrewolucyjnej i rewolucyjne przewroty
Świat wkroczył w nową erę chaosu, katastrof i niebezpieczeństw wojennych. Wiele osób wciąż wyobraża sobie – a przynajmniej ma nadzieję – że to tylko krótki zły sen. Jest to zrozumiałe ze względu na nagły i nieoczekiwany charakter dystopijny zwrot kontrrewolucyjny w 2020 r. Ale wiara w to jest grubą iluzją w powrocie do "normalności" przed!
To iluzja, ponieważ cywilizacja kapitalistyczna weszła w erę upadku. The Większy kryzys kapitalistycznej gospodarki światowej, który rozpoczął się jesienią 2019 r. zagroził bankructwu systemu nastawionego na zysk i rzucił niezliczone ilości miliony ludzi w otchłań bezrobocia i ubóstwa. Zniszczenie zmian klimatycznych – spowodowane lekkomyślnymi metodami produkcji wielkich korporacji – skutkuje zagładą warunków życia całych narodów, wymuszając masową migrację. Pandemia COVID-19 jest wykorzystywana przez klasę rządzącą wprowadzić masowe godziny policyjne, ograniczyć prawa demokratyczne i masowo rozszerzyć państwo policyjne i inwigilacyjne. W takim okresie kryzysu było to nieuniknione że rywalizacja między imperialistycznymi mocarstwami – co najważniejsze USA i Chiny – dramatycznie przyspieszyły i otworzyły nową zimną wojnę, która może prędzej czy później przerodzić się w kolejną wojnę światową.
Klasy rządzące na całym świecie prowadziły kontrrewolucyjną ofensywę nie tylko z powodu upadku ich systemu. Oni też to zrobili boją się nienawiści mas ludowych. I mają rację więc! Bohaterska rewolucja arabska, która rozpoczęła się w 2011 roku, trwa – mimo że wszystkie niepowodzenia i porażki. W rzeczywistości ogień rewolucji się rozprzestrzenia! w W drugiej połowie 2019 r. robotnicy i represjonowani na prawie wszystkich kontynentach pojawili się w powstań ludowych i wpadły w panikę rządy. z Hong Kongu do Ekwadoru, od Iraku do Chile, od Indii do Katalonii – miliony maszerowały dalej na ulicach i weszli w zacięte walki z siłami represji. Nic dziwnego, że klasy rządzące na całym świecie – pod wrażeniem modelu stalinowskiej kapitalistycznej dyktatury w Chinach – również dostrzegły w pandemii szansę dobrze, że można go przegapić. Wykorzystywanie COVID-19 jako pretekstu, Lords of Power i Pieniądze rozpoczęły na wiosnę bezprecedensową kontrrewolucyjną ofensywę 2020, który przyniósł chwilowe zatrzymanie globalnej fali powstań ludowych. Jednak robotnicy i uciskani walczyli od lata w tym samym roku, przede wszystkim z powstaniem Black Lives Matter w USA.
Innymi słowy, wkroczyliśmy w nową erę gigantycznej kontr-rewolucji i rewolucyjnych wstrząsów. Są to przemijające dzwony skazanego na zagładę systemu – podobnego do ostatniego okresu dekadenckiego Cesarstwa Rzymskiego, chińskiego Imperium Ming opanowanego przez korupcję czy schorowanego Imperium Osmańskiego. Powstaje jednak pytanie, który system zastąpi przestarzały porządek? Czy klasa rządząca pochłonie nie tylko swój system, ale także ludzkość w otchłani zapaści klimatycznej, wojny nuklearnej i globalnego barbarzyństwa? Czy też masom ludowym uda się obalić kapitalistycznych Lordów Zniszczenia, aby mogły zbudować globalny porządek socjalistyczny bez wyzysku i ucisku?
O przyszłości ludzkości zadecyduje nie los. To my zdecydujemy – robotnicy i uciskani! Możemy wziąć przyszłość w swoje ręce, jeśli będziemy walczyć. Nie każdy indywidualnie, ale zorganizowany jako kolektyw. Nie dla mgławicy lepszą przyszłość, ale dla jasnego programu. Innymi słowy, masy mogą wygrać tylko wtedy, gdy mają rewolucyjne przywództwo.
Ten Manifest adresowany jest do nowego pokolenia aktywistów, którzy odeszli poprzez doświadczenie walk z tyranią i wyzyskiem w ostatnich latach lat. Wzywamy ich do zjednoczenia w jedną drużynę bojową w oparciu o program socjalistyczna rewolucja światowa.
RCIT uważa to za najważniejsze, najpilniejsze zadanie obecnego okres budowania Rewolucyjnej Partii Światowej, która organizuje awangardę robotników i ciemiężonych. Jednak taka partia nie pojawia się automatycznie. Jest wynikiem systematycznych i zdecydowanych wysiłków rewolucjonistów. To będzie wykute w bitwach wielkich walk klasowych. Stąd każda organizacja, która… chce przyczynić się do tego zadania, musi wykazać się umiejętnością znalezienia właściwej orientacji w polityce światowej i interweniować w tych bitwach.
Ci, którzy w słowach wychwalają socjalizm, ale czynami służą klasie rządzącej, są ukrytymi wrogami walki wyzwoleńczej. Ci, którzy są zdezorientowani i nie mają rewolucyjnych zasad, mogą mieć dobre intencje, ale stanowią przeszkodę w walce o wyzwolenie. Rewolucja też nie potrzebuje. Potrzebuje towarzyszy wszystkich tożsamości o jasnych umysłach i oddanych sercach!
RCIT wzywa wszystkich aktywistów, którzy podzielają takie poglądy, aby przyłączyli się do nas w budowaniu Rewolucyjna Światowa Partia!
Potwór z państwa kapitalistycznego atakuje demokrację! Pokonaj szowinizm i bonapartyzm!
W obliczu nieuniknionego rozpadu kapitalizmu wszystkie sektory klasy rządzącej – od klasycznych prawicowców po liberałów i stalinowskich-kapitalistów – grają kontr-rewolucyjna ofensywa przeciwko robotnikom i ciemiężonym oraz atakująca ich demokratyczne prawa. Na całym świecie – często w formie "silnej człowieka" – rozszerzają uprawnienia państwa kapitalistycznego i intensyfikują ucisk mas ludowych. W stanach z jakąś formą burżuazji demokracja klasa rządząca zmierza w kierunku autorytarnych form rząd, często pozostawiając fasadę instytucji parlamentarnych w miejsce. W krajach z reżimami autorytarnymi zwiększają siłę jeszcze więcej władców. Wszystko to łączy się zwykle z pobrzękiwaniem szabelką i szowinistyczną nienawiścią przeciwko wrogom zagranicznym i krajowym (przeciwnikom politycznym, migranci, mniejszości muzułmańskie, rywalizujące państwa itp.). Marksiści nazywają tę politykę szowinistycznym państwowym bonapartyzmem. Strategicznym zadaniem w tej epoce jest przyspieszenie walki robotników i uciskanych i przekształcenie go w powstanie ludowe nakierowane w rozbijaniu kapitalistycznego potwora państwowego. Nikt nie powinien się łudzić: też ogień rewolucji spali nowego Lewiatana lub ten potwór spali pożreć nas!
Walcz z kontrrewolucją COVID-19!
Najważniejszym instrumentem klasy rządzącej na całym świecie uzasadniającym dramatyczną ekspansję państwa policyjnego i inwigilacyjnego jest pandemia CO VID-19. Marksiści od samego początku wyjaśniali, że podczas gdy CO VID-19 jest poważną pandemią (a nie mistyfikacją jak trumpiańskie głupoty twierdzą), nie jest jednak ani druzgocący, ani bezprecedensowy. W ostatnich dziesięcioleciach ludzkość wielokrotnie stanęła w obliczu pandemii i chorób, które twierdziły setki tysięcy lub miliony istnień rocznie (np. tzw 1957-58, tzw. grypa hongkońska w 1968, HIV/AIDS, gruźlica, ciężka sezony grypowe itp.)
Ponadto nie należy zapominać o proporcjonalnym spojrzeniu na kryzys COVID-19 na inne choroby i możliwe do uniknięcia zagrożenia dla zdrowia (infekcje dróg oddechowych, tytoń, alkohol itp.), które również powodują miliony zgonów każdego roku. Co więcej, ogólne statystyki śmiertelności w wielu krajach (w tym w tych, które nie wdrożyły polityki Lockdown) pokazują, że pandemia nie spowodowała w nadzwyczajnym wzroście zgonów spowodowanych głównie przez wirusa, ale raczej jako w wyniku zbankrutowanego systemu opieki zdrowotnej nadszarpniętego dekadami neoliberalizmu polityka oszczędnościowa. W dodatku trudno powiedzieć, ile bonapartystów atakuje a depresja gospodarcza już wywarła wpływ na liczbę zgonów.
RCIT od początku kryzysu zwracał uwagę, że orzeczenie klasa celowo prowokuje publiczną histerię, aby ukryć swoje interesy polityczne i gospodarcze. W rzeczywistości Władcy Władzy i Pieniądza wykorzystują pandemia jako pretekst do masowego rozszerzenia państwa policyjnego i inwigilacyjnego i narzucać drakońskie blokady, masowe godziny policyjne, antydemokratyczne restrykcje na spotkaniach i spotkaniach towarzyskich itp. Rezultatem jest dramatyczna izolacja i atomizacja ludzi, utrudniająca klasie robotniczej i ciemiężonym organizowanie oporu.
Jednocześnie polityka Lockdown służyła do wyrównywania kieszeni górna warstwa klasy kapitalistycznej. Według agencji informacji biznesowej Bloomberg miliarderzy – wśród nich pasożyty takie jak Bill Gates, Jeff Bezos, Elon Musk, Mark Zuckerberg, chiński Zhong Shanshan, Huang Zheng i Ceng Yuqun – może zwiększyć swoje zyski w 2020 roku o 31%! "500 najbogatszych na świecie ludzie dodali 1,8 biliona dolarów do łącznej wartości netto w tym roku i są teraz warci 7,6 bilionów, według Bloomberg Billionaires Index".
W przeciwieństwie do tego większość robotników i uciskanych ludzi ucierpiała gigantycznie straty. Wiele milionów straciło pracę i zostało wrzuconych w otchłań biedy. Według Międzynarodowej Organizacji Pracy większość światowej siły roboczej – około 3,5 miliarda ludzi – poniosło dramatyczne straty w wynagrodzeniach, ponieważ "globalna utrata dochodów z pracy w ciągu pierwszych trzech kwartałów 2020 r. wyniesie 3,5 bln USD", co oznacza "globalny spadek o 10,7 procent" (w porównaniu z odpowiednim w 2019 r.). Innymi słowy, liczba 500 najbogatszych ludzi na świecie może wzrosnąć ich bogactwo o 1,8 biliona dolarów, co stanowi ponad połowę (!) łącznych strat w dochód 3,5 miliarda robotników i biednych chłopów!
Krótko mówiąc, podczas gdy rządy odmawiają rozszerzenia sektora zdrowia publicznego do: zwalczają pandemię, rozwijają swoją politykę blokowania, która sprawia, że bogaci bogatsi i biedni biedniejsi! Bez wątpienia duże korporacje w sektorach takich jak IT, narkotyki, biotechnologia, sztuczna inteligencja, handel detaliczny itp. mają nadzieję na jeszcze większe zgarnięcie zyski w kolejnych latach.
Z tych wszystkich powodów można bezpiecznie założyć, że monopolistyczna burżuazja dramatyzować i wykorzystywać podobne pandemie, takie jak COVID-19 w nadchodzących latach, aby rozwijać swoją władzę i interesy zysku.
Wstydliwie Lewica Lockdown popiera bonapartystyczną politykę rządów kapitalistycznych (np. "lewicowych" socjaldemokratów i populistów jak PODEMOS w Hiszpanii stalinowcy i byli stalinowcy, jak francuska PCF, hiszpańska PCE/IU, niemieckie LINKE, trocko-rewizjoniści jak Morenoite LIT, Alan Woods IMT, Cliffite IST itp.). Co gorsza, ci socjalbonapartyści krytykują rządy za to, że nie narzucają bardziej drakońskich i dłuższych blokad i model stalinowsko-kapitalistyczny w Chinach! Krótko mówiąc, blokada w lewo kontynuuje haniebną tradycję wojennego i policyjnego "socjalizmu", który ma: zdominowała oficjalną socjaldemokrację od 1914 roku. Natomiast RCIT nieprzejednanie sprzeciwia się kontrrewolucji COVID-19 i walczy o następujące wymagania:
* Precz ze wszystkimi formami blokady, stanu wyjątkowego, masowych godzin policyjnych, ograniczeń masowych zgromadzeń i demonstracji itp.! Znieść wszystkie specjalne uprawnienia policji i armia! Nie dla wszystkich form środków nadzoru!
* Koniec z szeroko rozpowszechnioną praktyką państwa burżuazyjnego potępiania uciskanych en masa do długich wyroków więzienia. Zwiń wszystkie sprawy sądowe, w których czarni, migranci, rdzenni mieszkańcy, aktywiści LGBTQIA2S+, młodzież i wszyscy inni represjonowani zostali skazani przed demokratycznie wybranym procesem przed ławą przysięgłych, której co najmniej połowa to członkowie ze społeczności oskarżonych!
* Radykalna demokratyzacja administracji i sądownictwa: wybory i możliwość odwołania przez lud całego aparatu administracyjnego! Rozprawa przysięgłych dla wszystkich zbrodnie i wykroczenia!
* Nie dla wszystkich form technologii nadzoru i sztucznej inteligencji, które służą kontrola i ucisk ludzi! Tylko socjalizm wyzwoli technologie od kajdany kapitalizmu!
* Radykalna ekspansja zdrowia publicznego pod kontrolą robotników i ludu! Więcej szpitali, rekrutacja większej liczby pracowników, wyższe zarobki i lepsze warunki pracy, więcej OIT, itp.! Płatne zwolnienie chorobowe ze 100% rekompensatą wynagrodzenia! Zlikwiduj opresyjne i upokarzające praktyki w opiece zdrowotnej, które powstały w erze eugeniki! Integracyjna opieka zdrowotna dla osób wszystkich tożsamości, grup etnicznych i grup społecznych! Nie dla jakiejkolwiek sterylizacji lub praktyk rasistowskich!
* Żadnych zwolnień, żadnych cięć płac! O publiczny program zatrudnienia opłacany przez bogatych! Wywłaszczenie wielkich korporacji i banków pod kontrolą robotniczą!
* Rekompensata finansowa dla wszystkich samozatrudnionych, którzy zbankrutowali w obecnym czasie depresja i którzy nie są częścią bogatych!
Precz z autorytarnym państwem!
Pandemia COVID-19 nie jest jedyną wymówką kapitalistycznych rządów, aby zbudować szowinistyczne państwo bonapartowskie. Inne wymówki to "zagrożenia terrorystyczne", "dla obcych szpiegów" lub podobne wynalazki. Dotyczy to prawie wszystkich krajów kapitalistycznych – od Chin po Francję, od Nigerii po Chile i od Indii po Egipt. Rewolucjoniści potępiają takie rządowe kampanie nienawiści. Są albo czyste wynalazków lub zjawisk nadmiernie rozdętych ponad wszelką miarę. Przedstawiony powyżej system żądań walki z kontrrewolucją COVID-19 dotyczy także wszystkich innych obszarów polityki bonapartystycznej.
Reakcyjne siły prawicowe typu Trump, Le Pen i Salvini reprezentują najbardziej otwartą i wulgarną wersję szowinizmu i autorytaryzmu. Czyni to je jednak również bardzo niestabilnymi, nieskutecznymi i kompetentnymi jako partia rządząca, jak pokazały kadencje Trumpa, austriackiej FPÖ czy włoskiej Lega. W każdym razie w końcu liberalizm tradycyjny konserwatyzm i prawicowy populizm to różne drogi które wszystkie prowadzą do tego samego zła: podkopania demokracji burżuazyjnej i… utworzenie państwa szowinistyczno-bonapartystycznego.
W ślad za prawicowymi siłami populistycznymi działają organizacje faszystowskie i rosną – choć obecnie wciąż są stosunkowo niewielkie. Jak uczy historia, takie siły stanowią śmiertelne niebezpieczeństwo, ponieważ dążą do fizycznego unicestwienia wszystkich organizacje robotnicze i masy ludowe. Tę samą tendencję widzimy w postaci reakcyjnych ataków terrorystycznych przeciwko członkowie uciskanych społeczności. Przykładami na to są morderstwo Omar oraz Ernesto Guasiruma – aktywiści ekologiczni i rdzenni liderzy w Kolumbia – podczas kwarantanny w marcu 2020 r.; brutalny atak Tunezyjska policja przeciwko działaczom LGBTQIA2S+, takim jak Ahmed El-Tounsi w październiku 2020; zadźganie nożem muzułmańskiego Anwara Mohammeda przez grupę prawicy napastników w Indiach, ponieważ w kwietniu jechał autobusem z hinduską kobietą 2021.
Rewolucjoniści opowiadają się za utworzeniem jednolitego frontu robotników i organizacji ludowych w celu pokonania bonapartystów i prawicowych populistów i zmiażdżyć faszystów. Tworzenie uzbrojonych jednostek samoobrony ma kluczowe znaczenie w aby bronić klasy robotniczej i wszystkich uciskanych przed rasistami i faszystami ataków, ale także przed prowokacjami bandytów w mundurach.
Brońmy ludzi kolorowych, mniejszości narodowych i muzułmanów!
Na całym świecie klasa rządząca ucieka się do szowinizmu przeciwko Ludowi Kolor, migranci i muzułmanie w celu usprawiedliwienia państwowego bonapartyzmu, a także mylić i dzielić masy ludowe. Policja w USA jest znana z tyranizując, napadając i zabijając Czarnych na co dzień. Miliony uchodźcy są zmuszeni żyć w obawie przed aresztowaniem i deportacją przez ICE. Podobnie chiński reżim brutalnie tłumi muzułmańskich Ujgurów, umieszcza miliony w obozach pracy i wymusza sterylizację kobiet. Ma też rozbił ruch prodemokratyczny w Hongkongu.
W Europie rządy prowadzą islamofobiczną kampanię przeciwko mniejszościom muzułmańskim, tłumią wiele muzułmańskich instytucji pod pretekstem tak zwanego "islamu politycznego" i promują antymuzułmańskie szerzenie nienawiści, takie jak wstrętne karykatury Charlie Hebdo. Ataki te często odbywają się pod przykrywką rzekomego wsparcia wyzwolenia kobiet lub wyzwolenia osób LGBTQIA2S+. To jest zupełne kłamstwo, które służy jedynie jako wymówka dla ucisku socjalszowinistycznego! Zwłaszcza Ludzie Koloru i rdzenni mieszkańcy społeczności LGBTQIA2S+ doskonale wiedzą, jak silnie powiązana jest historia kolonializmu i dyskryminacji LGBTQIA2S+.
W prawie wszystkich krajach imperialistycznych migranci stanowią znaczący sektor klasa robotnicza, stojąca w obliczu superwyzysku jako taniej siły roboczej i narodowej opresja (brak praw obywatelskich, dyskryminacja ich języka w edukacji i administracji publicznej, szykanowanie przez policję itp.) To samo dotyczy krajów Zatoki Perskiej.
W wielu krajach kapitalistycznych mniejszości narodowe spotykają się z uciskiem ze strony państwa Pokonaj kapitalistycznego potwora państwowego, szowinizm i bonapartyzm! 11 (np. Palestyńczycy, Kurdowie, Tamilowie na Sri Lance, Kaszmirczycy w Indiach, rdzenna ludność Biafry w Nigerii, Tuareg w Mali, Ma puche w Chile, rdzenna ludność w Meksyku i Gwatemali, Czeczeni w Rosji oraz Basków i Katalończyków w Hiszpanii).
Zbyt często staliniści, socjaldemokraci, boliwarianie i trocko-rewizjoniści plami sztandar socjalizmu, broniąc, a nawet gloryfikując ucisk mniejszości narodowych lub religijnych w imię "oświecenia". Na przykład bagatelizują ucisk ze strony kapitalistycznych reżimów w Rosji czy Chinach. We Francji (i innych krajach europejskich) partie "komunistyczne", francuska LO, Lambertists i inni gloryfikują Charliego Hebdo i Samuela Paty, adwokat zakaz noszenia hidżabu dla muzułmańskich kobiet w szkołach i potępienie muzułmanów, którzy protestują przeciwko takiemu islamofobicznemu rasizmowi.
Zbyt często staliniści, socjaldemokraci, boliwarianie i trocko-rewizjoniści plami sztandar socjalizmu, broniąc, a nawet gloryfikując ucisk mniejszości narodowych lub religijnych w imię "oświecenia". Na przykład bagatelizują ucisk ze strony kapitalistycznych reżimów w Rosji czy Chinach. We Francji (i innych krajach europejskich) partie "komunistyczne", francuska LO, Lambertists i inni gloryfikują Charliego Hebdo i Samuela Paty, adwokat zakaz noszenia hidżabu dla muzułmańskich kobiet w szkołach i potępienie muzułmanów, którzy protestują przeciwko takiemu islamofobicznemu rasizmowi. RCIT bezwarunkowo wspiera walkę ludzi kolorowych, migrantów i muzułmanie przeciwko wszelkim formom ucisku. Naszym celem jest osiągnięcie najbliższego jedność robotników i uciskanych różnych narodów i zakonników wierzenia. Cel ten można osiągnąć poprzez walkę o pełną równość uciskana grupa.
Wzywamy więc awangardę robotniczą do przeciwstawienia się wszelkim formom szowinizmu, nacisku na asymilację itp. oraz do realizacji programu rewolucyjnego równość.
* Wspieraj walkę o pełną równość (równość języka ojczystego, równość praw obywatelskich, równe płace itp.) i samorząd lokalny!
* Precz ze wszystkimi kodeksami karnymi przeciwko osobom LGBTQIA2S+, które są niczym innym jak pozostałościami po zachodniej epoce kolonialnej! Zjednoczcie uciskanych wszystkich tożsamości pod rewolucyjnym sztandarem antyimperializmu!
* O jednostki samoobrony robotników i ciemiężonych w celu odparcia walki przemoc państwowa, jak również przeciwko reakcyjnym siłom politycznym i jednostkom! Dla szerokiej kampania publiczna, zorganizowana przez ruch robotniczy i organizacje osób uciskanych w celu edukowania mas ludowych przeciwko wszelkim formom fobii przeciwko LGBTQI2S+, rasizm, seksizm i wszystkie inne reakcyjne idee!
* Przeciwko wszelkim formom dyskryminacji mniejszości religijnych! Precz z białością Islamopho!
* Brońmy prawa do narodowego samostanowienia dla wszystkich uciskanych ludów! Zawsze, gdy naród uciskany pragnie niepodległego państwa, socjaliści mają obowiązek poprzeć to żądanie!
* Zniszcz syjonistyczne państwo apartheidu Izrael! O Czerwoną i Demokratyczną Palestynę z rzeka do morza!
Otwarte granice dla uchodźców!
W tym samym duchu antyimperialistycznego internacjonalizmu socjaliści sprzeciwiają się szowinistyczna polityka państw imperialistycznych przeciwko uchodźcom. Wielkie monopole osiągać ogromne zyski, eksploatując tanią siłę roboczą i surowce Południe. Często wielkie mocarstwa (lub ich pełnomocnicy) wysyłają wojska do takich krajów, sieją spustoszenie i tworzą miliony uchodźców. Ale kiedy tacy uchodźcy uciekają… ich zdewastowane kraje, państwa imperialistyczne zamykają swoje granice lub akceptują tylko niewielka ich mniejszość! Rewolucjoniści popierają prawo uchodźców do wjazdu do krajów imperialistycznych i życia tam z natychmiastowymi i pełnymi prawami obywatelskimi. Opowiadają się praca wśród żołnierzy i straży granicznej, aby pomóc uchodźcom w ucieczce nieszczęście.
* Precz z imperialistycznymi fortecami! O otwarte granice!
* W przypadku publicznego programu zatrudnienia dla uchodźców z wynagrodzeniem według krajowych standardy i opłacane przez bogatych!
Wielka Rywalizacja Mocy i Imperialistyczna agresja na południu:
Zwróć broń przeciwko Panom Władzy i Pieniędzy!
W epoce kapitalistycznego upadku wszystkie klasy rządzące przyspieszają swoją reakcję agresja nie tylko przeciwko swoim wrogom wewnętrznym, tj. robotnikom i represjonowanym, ale także przeciwko ich zagranicznym oponentom. W rezultacie rywalizacja między imperialistycznymi wielkimi mocarstwami – USA, Chinami, UE, Rosją i Japonią – jest dramatycznie przyspiesza. Zimna wojna między długoletnią hegemonią, ale obecnie malejąca, USA i druga co do wielkości i rosnąca potęga Chiny są najbardziej ważny konflikt determinujący w dużym stopniu większość innych konfliktów między państw.
Na wszystkich kontynentach i na wszystkich oceanach wielkie mocarstwa konkurują o wpływy i dominacja. Taka rywalizacja powoduje powstawanie bloków handlowych, dyplomatycznych manewry, wyścig zbrojeń i konflikty zbrojne. Azja i region Pacyfiku są z szczególne znaczenie, ponieważ są one domem dla większości kapitalistycznej produkcji wartości, jak również dla prawie wszystkich wielkich mocarstw. Aby realizować swoje interesy, mocarstwa często korzystają z pośredników lub wsparcia sojuszników państwa nieimperialistyczne (np. poparcie USA dla Indii czy Tajwanu przeciwko Chinom). W okresie upadku kapitalizmu nieuniknione jest stale rosnące przyspieszenie takiej rywalizacji. Jeśli klasa robotnicza nie zlikwiduje wielkich mocarstw… z czasem, dzięki międzynarodowej rewolucji socjalistycznej, egzystencja ludzkości jest zagrożone przez III wojnę światową.
Rewolucyjny defetyzm przeciwko wszystkim wielkim mocarstwom!
Biurokratyczne kierownictwo robotników i masowych organizacji ludowych charakteryzują się różnymi nurtami socjalimperializmu, tj. poparciem dla tej lub innej Wielkiej Mocy pod listkiem figowym "demokracji" lub "socjalizmu". W Europa, siły związane z (byłą) stalinowską Partią Lewicy Europejskiej są nierozerwalnie zintegrowane z imperialistyczną polityką UE. Niektórzy z nich są częścią rządów UE (np. PODEMOS i PCE/IU), inne były in niedawna przeszłość (np. SYRIZA w Grecji, PCF we Francji, AKEL na Cyprze). Podczas, gdy Japońska Partia Komunistyczna nie była częścią rządu, jest lojalnym zwolennikiem imperialistycznej ojczyzny od wielu dziesięcioleci.
Inne sektory robotników i masowych organizacji ludowych popierają imperializm chiński i rosyjski. Wśród tych sił jest wiele partii boliwariańskich w Ameryce Łacińskiej oraz partie stalinowskie (np. KPRF w Rosji, partie powiązany z KKE (Grecja) kierował IMCWP, państwowymi stronami w Wietnamie i Laosie). Wielu trockich-rewizjonistów (np. osławiona tradycja spartakusowska) podzielać takie podejście. Innymi słowy, takie siły działają jako słudzy odpowiedniej Wielkiej Mocy. Dlatego marksiści charakteryzują ich jako socjalimperialistów. Podobne zjawiska istnieją w nieimperialistycznych potęgach pośrednich, takich jak Indie gdzie wszystkie główne partie "komunistyczne" (np. CPI(M), CPI, CPI-ML) działają jako socjalszowinistyczni obrońcy swojej ojczyzny przed takimi przeciwnikami jak Kaszmirczycy ludzi, Pakistanu czy Chin.
Różne siły lewicowe nie wspierają otwarcie jednego lub drugiego wielkiego mocarstwa (np. PTS/FT, PSTU/LIT, LIT-CI, CWI). Jednak wyznaczając tylko jedną stronę jako "imperialistyczny" (USA, UE i Japonia), ale odrzucający taką charakterystykę drugiej stronie (Chiny i Rosja) otwierają drogę do socjal-pacyfistycznego dostosowania się do późniejszych.
RCIT i wszyscy autentyczni rewolucjoniści przyjmują konsekwentną i nieprzejednaną podejście przeciwko wszystkim imperialistycznym potęgom w oparciu o bolszewicki program "rewolucyjny defetyzm". Mówimy: Precz ze wszystkimi imperialistycznymi mocarstwami – czy USA, Chiny, Rosja, UE lub Japonia! Klęska imperialistycznej "ojczyzny" to mniejsze zło! W każdym politycznym, gospodarczym lub militarnym konflikcie między tymi Wielkimi Siły, ruch robotniczy nie może wspierać żadnego z nich. Rewolucjoniści mówią w tradycji Karla Liebknechta i Róży Luksemburg: The Main Wróg jest w domu! Obróć broń przeciwko klasie rządzącej!
Rewolucjoniści działający w państwach imperialistycznych powinni opowiadać się za systematycznym polityczna i ideologiczna kampania przeciwko "ich" klasie rządzącej. Muszą ujawnić swój "własny" rząd jako głównego wroga robotników i uciskanych, jako główna przyczyna ich pogarszających się warunków życia. W szkołach, na uniwersytetach, itd. muszą przeciwstawiać się wszelkim formom imperialistycznego "patriotyzmu" i supremacji. Ponadto powinni pracować wśród żołnierzy, aby zmniejszyć niebezpieczeństwo, że mogą być nadużywane przez dowództwo armii w każdej imperialistycznej awanturze. Ponadto rewolucjoniści sprzeciwiają się wszelkim imperialistycznym sojuszom wojskowym (np. NATO, Wspólna Polityka Bezpieczeństwa i Obrony UE, Szanghajska Organizacja Współpracy Chin i Rosji) oraz współpraca służb specjalnych (np. Five Eyes).
* Nie dla imperialistycznych wojen handlowych i sankcji!
* Precz z imperialistycznym wyścigiem zbrojeń! Nacjonalizacja przemysłu zbrojeniowego w latach kontrola pracowników!
* Brak wsparcia dla jakiegokolwiek budżetu wojskowego!
* Precz z wszelkimi formami szowinistycznego nawoływania do nienawiści! O kampanię przeciwko imperialistycznemu "patriotyzmowi"! Nie dla żadnej popularnej polityki frontowej (jak promują staliniści) – o niezależne kierownictwo klasy robotniczej!
* W przypadku konfliktu zbrojnego: główny wróg jest w domu!
Konflikty i wojny między mocarstwami regionalnymi
Na tle rozpadu kapitalistycznego i kryzysu imperialistycznego świata" porządku, logiczne jest, że narastają napięcia nie tylko między Wielkim Mocarstwa, ale także między klasami rządzącymi nieimperialistycznej, półkolonialnej państw. Przykładami tego są pobrzękiwanie szabelką na Bliskim Wschodzie i we wschodniej części Morza Śródziemnego, napięcia w Afryce Wschodniej (z udziałem Egiptu, Etiopii i Sudanie) lub w Azji Południowej (Indie-Pakistan).
Ogólnie rewolucjoniści odmawiają poparcia dla jakiejkolwiek agresji jednego kapitalistycznego państwa półkolonialnego przeciwko drugiemu. Tutaj należy zastosować podobną taktykę, jak opisano powyżej w przypadku konfliktu wewnątrzimperialistycznego ("defetyzm rewolucyjny"). Jednak biorąc pod uwagę specyfikę burżuazji krajów półkolonialnych (stanowi ona "pół-rządzącą, pół-uciskaną klasę", jak wyjaśnił Trocki), możliwe jest, że w danym konflikcie to lub inne państwo służy jako pełnomocnik potęg imperialistycznych.
Marksiści muszą konkretnie analizować każdy konflikt między krajami półkolonialnymi, aby opracować swoją taktykę. Są zobowiązani do oceny, czy jeden (lub oba) strony w każdym konflikcie działają jako imperialistyczni agenci i jeśli pokonanie tego czy tamtego strona jest korzystna dla interesów rewolucji. Jeśli tak jest, że zwycięstwo militarne jednej strony poprawia warunki wyzwolenia międzynarodowego? walki, RCIT będzie krytycznie wspierać ten kraj. Na przykład baranie rewolucji stanęli po stronie sił jemeńskich od początku prowadzonej przez Saudyjczyków agresji w 2015 roku lub Kataru przeciwko agresji Arabii Saudyjskiej/ZEA w latach 2017-20.
Wojny narodowowyzwoleńcze ludzi uciskanych
Ostatnie dwie dekady charakteryzowały się licznymi atakami militarnymi i okupacjami krajów Południa przez imperialistyczne mocarstwa lub ich pełnomocników. Najbardziej widocznymi tego przykładami są wojny okupacyjne USA w Afganistanie od 2001 r. i Iraku od 2003 r., wojny Rosji przeciwko narodowi czeczeńskiemu w latach 1994-96 oraz na początku 2000 r. i przeciwko narodowi syryjskiemu od 2015 r., izraelska okupacja Palestyńczyków ludzi, w tym ostatnie trzy wojny przeciwko Gazie (2009, 2012 i 2014) lub interwencja wojskowa wojsk francuskich i unijnych w Mali i innych krajach afrykańskich. Innym przykładem jest agresja USA na państwa półkolonialne, takie jak Korea Północna i Iran. Interwencja militarna kierowanego przez Etiopczyków AMISOM w Somalii od 2007 roku reprezentuje reakcyjną wojnę okupacyjną w służbie imperialistycznych potęg.
Słynne powiedzenie Clausewitza – "Wojna jest jedynie kontynuacją polityki inne środki" – dotyczy również polityki socjaldemokratów, stalinowców i… centrysta w lewo. Chociaż zwykle głoszą puste frazy pacyfistyczne, prawie żadne z są gotowi bronić uciskanego ludu przed imperialistycznymi agresorami. W wielu przypadkach siły te opowiadały się nawet za imperialistyczną agresją (np. poparcie stalinowców dla rosyjskiej armii okupacyjnej w Syrii od 2015 roku; duże sektory niemieckiego LINKE wspierają Izrael) lub odmawiają przeciwstawienia się wojsku interwencje (np. francuska PCF w przypadku wysłania lotnictwa do Iraku w 2015).
RCIT zawsze był nieprzejednanym zwolennikiem walk wyzwoleńczych ludzi uciskanych i ofiar imperialistycznej agresji. We wszystkich takich konfliktach rewolucjoniści muszą wspierać wszelkimi niezbędnymi środkami walkę ludu uciskanego i działać na rzecz pokonania sił imperialistycznych. ich pełnomocnicy. Biorąc pod uwagę globalny kryzys przywództwa klasy robotniczej, takie walki wyzwoleńcze są zwykle prowadzone przez drobnomieszczańskie siły nacjonalistyczne lub islamistyczne. Rewolucjoniści opowiadają się za stosowaniem połączonej taktyki zjednoczonego frontu z krytyką ich politycznych ograniczeń. Pilnie trzeba zbudować niezależną partii robotniczej i walki o rząd kierowany przez proletariat, nie bez względu na to, jak mała jest klasa robotnicza w kraju.
Podsumowując, wojny stanowią zarówno koncentrację, jak i punkt kulminacyjny władzy imperialistycznej, a także potencjał wybuchowego kryzysu. Rewolucjoniści działają ku wykorzystaniu każdego konfliktu i wojny do osłabienia i ostatecznego sprowadzenia obalić imperialistycznych Lordów Władzy i Pieniądza przez ludowe walki wyzwoleńcze i rewolucyjne powstania.
Obrona naszych praw – walka o socjalistyczną przyszłość!
Dopóki istnieje upadający system kapitalistyczny – lub lepiej powiedzieć… wegetować – nie da się zrealizować wcześniej nakreślonych postulatów obronna walka z szowinistycznym bonapartyzmem państwowym oraz przeciwko wojna imperialistyczna. W najlepszym przypadku mogą to narzucić robotnicy i uciskani lub że reforma przez jakiś czas poprzez zaciekłe walki masowe. Ale w końcu tak jest niemożliwe do zniesienia agresji militarystycznej i potwora Lewiatana bez obalenie klasy kapitalistycznej przez rewolucję socjalistyczną. To samo dotyczy za wszystkie inne żądania w walce o naszą przyszłość.
Ziemia chłopom! Wywłaszczaj wielkich właścicieli ziemskich!
Na całym świecie grunty rolne są skoncentrowane w rękach kilku – głównie korporacje i baronowie ziemscy. Natomiast większość ludności wiejskiej posiada tylko mały kawałek ziemi lub nie ma jej wcale. Według badania opublikowanego pod koniec 2020 r. największy 1% gospodarstw prowadzi ponad 70% światowych pole uprawne. Jednocześnie najbiedniejsza połowa chłopów kontroluje tylko 3% wartości ziemi rolnej, zagrażającej egzystencji 2,5 miliarda ludzi, którzy bezpośrednio polegać na rolnictwie. To logiczne, że w takich warunkach miliony ludzi jest zmuszonych do opuszczenia swoich domów i dołączenia do miejskiej biedoty lub zostania migranci i uchodźcy w bogatych krajach imperialistycznych. Biedota wiejska jest najważniejszym sojusznikiem klasy robotniczej. Dlatego też RCIT wzywa awangardę robotniczą do energicznego wspierania walki biedni chłopi wyrażali się następującymi hasłami:
* O wywłaszczenie wielkich właścicieli ziemskich, kościoła i międzynarodowych korporacji!
* Nacjonalizuj ziemię pod kontrolą robotników i biednych chłopów! Ziemia tęskni za tymi, którzy ją uprawiają!
* Tylko lokalne rady akcji demokratycznej reprezentujące biednych i bezrolnych chłopów powinna zadecydować kwestia przydziału i użytkowania ziemi! Specjaliści ds. rolnictwa mogą zostać włączone do tego procesu jako doradcy.
* Promuj dobrowolne spółdzielnie rolnicze i tworzenie większych państwowych jednostek produkcyjnych! Państwo powinno zapewnić niezbędną maszynerię i inne środki do: ulepszyć rolnictwo dla chłopów! O tworzenie lokalnych szkół dla chłopów, aby promować naukę nowoczesnych sposobów rozwoju zrównoważonego i ekologicznego rolnictwa!
* Anuluj długi i znieś czynsze dla chłopów! Nieoprocentowane pożyczki dla małych chłopek!
Katastrofa klimatyczna spowodowana przez kapitalizm
Krok po kroku wielkie monopole – głównie z siedzibą w państwach imperialistycznych – coraz bardziej niszczą klimat, a wraz z nim naturalne warunki życia większe sektory ludzkości. Jeśli ich nie powstrzymamy, stworzą planetę jako całość do zamieszkania. Według najnowszych danych rok 2020 zakończył się najcieplejszym dekada w historii. Jest prawdopodobne, że oceany są teraz najgorętsze od 1000 lat i nagrzewa się szybciej niż kiedykolwiek w ciągu ostatnich 2000 lat. Tylko radykalne odwrócenie polityki energetycznej i środowiskowej może uratować naszą planeta i nasza przyszłość. RCIT ostrzega przed wszelkimi złudzeniami co do rządów kapitalistycznych i ich "szczytów klimatycznych". Jedyny sposób na walkę ze zmianami klimatu jest powstanie globalnego ruchu masowego walczącego o międzynarodowy plan awaryjny. Walkę o niezbędne reformy środowiskowe należy łączyć z celem obalenia kapitalizmu, bo tylko wtedy taka plan awaryjny być wdrożony w pełni i na stałe.
* Przekształć system energetyczny i transportowy - globalne wycofywanie paliw kopalnych i produkcji energii jądrowej!
* Masowe badania nad wykorzystaniem alternatywnych form energii, takich jak energia wiatrowa, pływowa i słoneczna! O program globalnego ponownego zalesiania!
* Nacjonalizacja pod kontrolą pracowników wszystkich firm energetycznych i wszystkich firm odpowiedzialnych za podstawowe dostawy, takie jak woda i produkty rolne, a także linie lotnicze, statki i obiekty kolejowe!
Walka wyzwoleńcza przeciwko uciskowi kobiet!
Przeciwko wszelkim formom ucisku seksualnego!
Kapitalizm jako ostatni etap w historii społeczeństwa klasowego jest ze sobą nierozerwalnie związany z różnymi formami ucisku społecznego. Wyzysk ekonomiczny może istnieć tylko w połączeniu z podziałami wśród mas ludowych i dyskryminacją różnych grup. Kobiety zarabiają znacznie niższe pensje niż mężczyźni i niedźwiedź główna odpowiedzialność za (bezpłatne) prace domowe i opiekę nad dziećmi. Oni też cierpią przed przemocą domową – zjawiskiem, które drastycznie się nasiliło do reakcyjnej polityki Lockdown.
Inne formy to dyskryminacja lesbijek, gejów, osób biseksualnych, transpłciowych, osoby interpłciowe i queer (LGBTQI2+). Ich ucisk opiera się na legalnym system wprowadzony głównie przez europejskie narody kolonialne i rozszerzony do inne części świata. Prawo zachodnie w tym czasie było tak wpływowe, że 57% krajów, które kryminalizują zachowania homoseksualne, korzysta z ram prawnych Imperium Brytyjskiego. W tym samym czasie grali chrześcijańscy misjonarze okrutną rolę w niszczeniu wielu historycznych form uznania i akceptacja osób LGBTQIA2S+ w koloniach. Stąd walka o wyzwolenie społeczności LGBTQIA2S+ jest ściśle związane z walką o narodowe samookreślenie ludzi uciskanych.
RCIT walczy z wszelkimi formami ucisku społecznego.
* Równa płaca za równą pracę!
* Koniec z wszelkimi formami prawnej dyskryminacji kobiet i osób LGBTQI+!
* Aby w ramach publicznego programu zatrudnienia zbudować bezpłatną, dobrze wyposażoną całodobową opiekę nad dziećmi budynków!
* Bezpłatny dostęp do antykoncepcji i aborcji!
* Walcz z przemocą wobec kobiet! Dla ekspansji kobiet publicznych bezpiecznych domy, kontrolowane przez organizacje kobiece! Do tworzenia jednostek samoobrony przez ruch robotniczy i kobiecy przeciwko przemocy seksistowskiej!
* O rewolucyjny ruch kobiecy! Taki ruch musi też walczyć przeciwko wszelkim formom rasizmu, islamofobii, transfobii i wszelkim innym reakcyjnym atakom! Dlatego walczymy o rewolucyjny ruch kobiecy z silnym przywództwem przez kobiety z klasy robotniczej, kobiety kolorowe, kobiety z LGBTQIA2S+, rdzenne kobiety itp.!
* Nie dla protekcjonalnych i opresyjnych przepisów dotyczących przemian seksualnych i przyjmowania hormonów Terapia Zastępcza (HTZ)! Pełna swoboda pozyskiwania niezbędnych zabiegów chirurgicznych i hormonalnych recepty!
* Płeć/płeć w dokumentach tożsamości i podobnych dokumentach wymaganych przez państwo kapitalistyczne jako oraz właściciele, firmy itp. muszą zostać całkowicie usunięte!
O rząd robotniczy i biedny chłopski! O rewolucję socjalistyczną!
Nie ma ucieczki od kapitalistycznego piekła na ziemi, dopóki Panowie Władzy i Pieniądza będą nadal dominować nad polityką i gospodarką. Jedyne wyjście jest przejmowanie władzy przez robotników i uciskanych. Dlatego głównym zadaniem klasa robotnicza ma walczyć o własny rząd, rząd, który… otwiera drogę do socjalizmu.
Takiego rządu nie należy mylić z tak zwanymi "lewicowymi" rządami, takimi jak rząd MAS w Boliwii, rząd PSOE/PODEMOS w Hiszpanii, kierowany przez PT rząd frontu ludowego w Brazylii, rząd Maduro w Wenezueli czy rząd SYRIZY w Grecji. To wszystko są burżuazyjne rządy, które ukrywają swoją służbę klasie kapitalistycznej za pomocą… niektóre "postępowe" reformy i zwroty.
Nie oznacza to, że rewolucjoniści powinni ignorować konflikty między takimi rządy i ultrareakcyjne sektory burżuazji. W przypadku reakcyjnego zamachu stanu lub imperialistycznej interwencji (jak to miało miejsce np. kilkakrotnie w Wenezueli czy Boliwii w 2019 r.), rewolucjoniści opowiadają się za taktyką jednolitego frontu w celu pokonania takich ataków.
Jednak wszystkie żądania i krytyczne poparcie dla partii reformistycznych i populistycznych muszą być połączone z wyraźnym ostrzeżeniem o nieuniknionej zdradzie przywódców. Wzywamy robotników i popularne organizacje masowe do zerwania z jawnie burżuazyjnymi siłami w takich rządach i stworzyć własny rząd.
Jedyną drogą naprzód jest stworzenie rządu robotniczego i biednego chłopskiego. Taki rząd powinien opierać się na radach działania robotników, chłopów i biednych, jak i uzbrojonych milicji ludowych. Wszyscy przedstawiciele tych rad działania są wybierani bezpośrednio przez pracowników i mogą być przez nich odwołani, powinien otrzymywać nie więcej niż wynagrodzenie przeciętnego pracownika wykwalifikowanego. Taki autentyczny rząd robotniczy zwróciłby się natychmiast do decydującego zadania: wywłaszczenie klasy kapitalistycznej, a także rozbicie aparatu państwa burżuazyjnego" represje za pomocą milicji robotniczych i ludowych.
Innymi słowy, walka o rząd robotniczy i ludowy jest nierozerwalnie związana z walką o rewolucję socjalistyczną. Jednak naiwną iluzją lewicowych socjaldemokratów, stalinowców i różnych centrystów (np. CWI, IMT) jest wyobrażanie sobie, że klasa robotnicza mogłaby przejąć władzę w wyborach parlamentarnych lub w stopniowy, pokojowy sposób. Wszystkie historyczne doświadczenia – obie udane rewolucje socjalistyczne, takie jak rosyjska w latach 1917-21, biurokratyczne rewolucje społeczne (np. Kuba w latach 1959-61, Chiny w latach 1945-49), niedokończone rewolucje demokratyczne (np. Nikaragua czy Iran w 1979 r.), a nawet rewolucje osierocone (np. hiszpańska wojna domowa z lat 1936-39, Chile z 1973, arabskie rewolucje od tamtego czasu) 2011) – pokazuje, że klasa rządząca nigdy nie zrezygnuje w pełni ze swojej władzy w pokoju. Klasa robotnicza i uciskani mogą tylko przejąć władzę i obalić kapitalizm, jeśli się zorganizują – pod przywództwem rewolucjonisty partia – w milicjach ludowych i przygotowuje do powstania zbrojnego, wojny domowej i dyktatury proletariatu jako jedynego środka walki o wyzwolenie może być zaawansowany.
Kryzys rewolucyjnego przywództwa: Jak zorganizować i jak walczyć?
Doświadczenie minionej dekady – od początku rewolucji arabskiej – pokazał głębię kryzysu przywództwa. Widzieliśmy gigantyczne heroiczne walki masowe – najpierw w Egipcie, Syrii, Libii i innych krajach arabskich, a później w Hongkongu, Indiach, Nigerii, Sudanie, Chile, Katalonii, USA. i wielu innych częściach świata. W większości przypadków powstania ludowe zakończyły się niepowodzeniem w ich aspiracjach. A kiedy masom udało się obalić dyktaturę, zdobycze te zostały później w większości odwrócone.
Przyczyną takiej porażki nie był brak poświęcenia ani "zacofana świadomość" mas – jak często twierdzą cyniczni długoletni "lewicowcy" (zadumany w wygodnym siedzeniu). W rzeczywistości walcząca awangarda mas – od Plac Rabaa w Kairze, okopy Idlib, barrios Santiago de Chile, uniwersytety Hongkongu na ulice Portlandu – zajmijcie lepsze stanowisko przeciw kontrrewolucji niż większość tzw. lewicy. Tylko pamiętaj okrzyki socjaldemokratów, stalinowców i trocko-rewizjonistów PSTU/LIT, IMT i SWP/IST, gdy generał Sisi z Egiptu rozpoczął swoją krwawy wojskowy zamach stanu w lipcu 2013 roku!
Ale aby pokonać wroga, trzeba zrozumieć jego naturę i wnętrze sprzeczności. Trzeba wyciągnąć wnioski z przeszłych zmagań i przejrzeć mgła mylących fraz fałszywych przyjaciół uciśnionych. Ponadto jeden musi opracować program walki oparty na analizie naukowej kapitalistycznego społeczeństwa klasowego w wieku upadku. Wreszcie potrzebna jest zorganizowana siła działająca jako zdyscyplinowana siła pośród ognia rewolucji, a także… pod ogniem kontrrewolucji. Krótko mówiąc, aby wygrać, masy potrzebują a partia bojowa – w kraju i za granicą – oparta na rewolucyjnym program.
Niestety taka impreza jeszcze nie istnieje. Stąd masy są zmuszone spontanicznie przystąpić do walki – stawić czoła bez przygotowania dobrze przygotowanemu wrogowi klasowemu, dysponującemu wysoce zorganizowaną machiną państwową. Lub cierpią z powodu biurokratycznego przywództwa – zwykle różnego rodzaju reformistów, populiści, drobnomieszczańscy nacjonaliści czy islamiści – którzy zdradzają masy w zamian za kilka wysokopłatnych stanowisk w aparacie państwowym lub które wciągają ich w ślepy zaułek militarnej przygody.
Nie oznacza to, że rewolucjoniści przyjmą sekciarskie podejście do ochrony takich sił. To byłoby kryminalnie głupie. Rewolucjoniści muszą zawsze i wszędzie przyłączać się do walki mas walczących o swoje interesy – niezależnie od ich obecnego kierownictwa. Powinni stosować jednolity front taktyka wobec innych sił, które są częścią takich walk wyzwoleńczych. Ten środki koordynowania wspólnych działań praktycznych, przedstawiania propozycji i wprowadzania żąda od nich i jednocześnie krytykuje wszędzie tam, gdzie takie siły wykazują swoje ograniczenia.
Biorąc pod uwagę spontaniczny i surowy charakter różnych ruchów masowych na jednym strony i zdrady różnych oficjalnych przywódców, z drugiej strony zdarza się, że jawnie reakcyjne elementy uczestniczą w protestach na rzecz progresywne cele (np. zwolennicy Trumpa w ruchu demokratycznym) W Hong Kongu; Gloryfikatorzy Putina w mobilizacjach pacyfistycznych w Niemczech; prawica libertarianie w protestach przeciwko Lockdown). W zależności od konkretnej analizy w takiej sytuacji rewolucjoniści mogą dążyć do pracy w ramach takich ruchów w celu wyrzucenia takich sił. Komentowanie z zewnątrz i demaskowanie całego masowego ruchu może skutkować autodestrukcyjną izolacją rewolucjoniści.
Rewolucjoniści muszą także pracować w związkach zawodowych i innych robotnikach i popularne organizacje masowe. Tam, gdzie takie organizacje nie istnieją, musi pracować nad tworzeniem nowych. Stare lub nowe organizacje masowe – zadaniem jest budowanie instrumentów bez biurokratycznej dominacji, które służą potężna broń do walki klasowej.
Podobnie RCIT opowiada się za utworzeniem rewolucyjnego ruchu kobiet, Czarnych, imigrantów itd., by walczyć o ich interesy.
Rewolucyjne dojrzewanie mas nie jest procesem automatycznym ani procesem" odbywa się pod biurokratycznym dowództwem samozwańczego kierownictwa. Jest to raczej wynik doświadczeń mas w walkach połączonych z ciągła edukacja sił rewolucyjnych.
Rewolucyjny program działania, taki jak opisany powyżej, nie jest atrakcją do władców. To byłoby całkowicie naiwne. Nie możesz poprosić tygrysa, aby stał się wegetariański. Nie, wymagania takiego programu mogą wygrać tylko wszystkie formy walka masowa podyktowana konkretnymi okolicznościami – od masowych demonstracji, strajków i strajków generalnych, okupacji, po powstania zbrojne i cywilne wojny. Dlatego taki program jest także bojowym instrumentem pomagającym robotnikom i uciskani, aby dowiedzieć się, jakie są najskuteczniejsze sposoby organizowania.
Najważniejszym narzędziem w walce wyzwoleńczej jest rewolucjonista Światowa Partia, partia, która jednoczy awangardowych bojowników ze wszystkich kontynentów podstawą programu marksistowskiego. To zadanie jest zarówno stare, jak i nowe jeden. Skoro taka partia obecnie nie istnieje, trzeba ją zbudować na nowo. Jednakże, nie zaczynamy od zera. RCIT kontynuuje rewolucyjną tradycję począwszy od przywództwa Karola Marksa i Fryderyka Engelsa w Lidze Komunistycznej, Drugiej Międzynarodówce do 1914, rewolucyjnej Międzynarodówce Komunistycznej Lenina i Czwartej Międzynarodówce Trockiego. To prawda, że ten wątek został zerwany upadek programowy i organizacyjny Czwartej Międzynarodówki 1948-52. Jednak dzisiejsze siły, takie jak RCIT, podejmują wątek rewolucyjnej ciągłości w swojej walce o budowę rewolucyjnego światowa impreza.
Jeśli zgadzasz się z naszymi celami, dołącz do nas! Naprzód w walce o socjalistyczny świat rewolucja! Niech ogień rewolucji spali katastrofalny kapitalizm!