In this section we publish articles, statements and documents from other organizations and activists who are not affiliated with the RCIT and who, therefore, do not necessarily share our programmatic outlook. Usually, these documents remain on this page for a certain period after which they are replaced by others. This section is intended as a forum for the spread of ideas and information as well as one which encourages debate between forces which view themselves as part of the liberation movement of the workers and oppressed. We invite other organizations and activists to send us contributions for this section. Naturally the Editorial Board reserves the right to decide on the final acceptance or rejection of any submitted piece.

* * * * *
Dmitry Petrov: An Anti-Imperialist Fighter Has Fallen
English   Español    Francais   Português   Italiano  한국어

Anatomy of the Covidian-Left: Response to "The Left and Covid" (Part 1 & 2)
Казахстан: социалистический подход к инфраструктурному кризису
France: Demonstration against "Green Pass" and Compulsory Vaccination in Angers (13.8.2021)
"It's about our Identity!" - Interview with activists about the uprising of the Ahwazi Arabs in Iran
South Africa: Interview with a Revolutionary Marxist on the Hunger Riots in July 2021
From Cuba: a description of the protests
Compulsory Vaccination in France / Vaccination obligatoire en France 
The uprising as a part of the global circulation struggles  (NonPolitics / Achim Szepanski)
La victoria de Netanyhau, la imposibilidad de reformar el Estado de Israel y un debate histórico con el PO
Chile: derrota enorme del gobierno y duro golpe al régimen semi-pinochetista
Netanyahu, los capitalistas y la ley del bombero loco
Netanyahu, the capitalists, and the mad fireman law
De la guerra comercial a la guerra de las patentes
From the Trade War to the Patent War
Covid: laboratorios bloquean desarrollo de tratamientos eficaces y baratos
La izquierda argentina con las masas colombianas
1M y la izquierda que cambio Plaza de Mayo por la virtualidad
Gran victoria: sigamos el camino que marcaron los piquetes de Neuquén
Primero Chile, ahora Colombia, la llama de la rebelión sigue prendida
El homenaje a los Mártires de Chicago no puede ser virtual, sino en las calles
Gramsci y el abandono de la teoría marxista del Estado
El poderoso gremio portuario de Chile, va a la huelga
Argentina: Socialist Rally in Buenos Aires against the Lockdown
Argentina: Jornada de agitación en Casa de Gobierno contra toque de queda
Aufruhrgebiet: Zur Methodologie der Klimawissenschaft
Erasing People through Disinformation: Syria and the "Anti-Imperialism" of Fools
Louis Proyect: Book Review of Michael Pröbsting's 'Anti-Imperialism in the Age of Great Power Rivalry'
Victor Conti: Bare Life: Biopolitics and Covid Capitalism
Colectivo Emancipacion Proletaria: ¡¡Abajo el estado de sitio!! ¡¡La única pandemia es el capitalismo imperialista!!
A Russian revolutionary died in the trenches fighting for the defence of the Ukraine against Putin's invasion
Preface by the RCIT: Below we republish the last message from Dmitry Petrov, an Anarcho-Communist from Russia who fought as a solider defending the Ukraine against the barbarous invasion by Putin.
As revolutionary Marxists, we do not share the ideology of Anarcho-Communism. However, this does not prevent us from stating our deep respect for comrade Dmitry Petrov and his co-fighters in the Combat Organization of Anarcho-Communists (BOAK). Dmitry and his friends refuse to serve "their motherland". Quite the opposite, they are dedicated enemies of Russian imperialism and its ruling class. Hence, they take the side of the oppressed people and defend the Ukraine.
Dmitry has dedicated his life to the cause of the liberation struggle and paid the highest possible price. His life was short, but it was not wasted. It was more meaningful than many others because he contributed to a higher goal – the liberation of humanity. He left a legacy and the best way to remember him is to keep fighting for a socialist future, free of all forms of oppression, exploitation, filth and humiliation!
From the RCIT, we send our deepest condolence to his family, friends and comrades!
Down with Russian imperialism! Long live the socialist struggle for freedom and justice!
* * * * *
A message from our comrade Dmitry Petrov
Anarcho-Communist Militant Organization, 6 May 2023
My name is Dmitry Petrov, and if you read these lines, then most likely I died fighting against the Putin's invasion of Ukraine.
I am a member of the Combat Organization of Anarcho-Communists (BOAK), and I will still remain this after my death. The BOAK is our brainchild, born of our faith in an organized struggle. We managed to carry it on different sides of state borders.
I tried my best to contribute to the victory over dictatorship and to bring the social revolution closer. And I am proud of my comrades who fought and fight in Russia and beyond.
As an anarchist, revolutionary and Russian, I found it necessary to take part in the armed resistance of the Ukrainian people against Putin's occupiers. I did this for justice, for defense of the Ukrainian society and for liberation of my country, Russia, from oppression. For the sake of all the people who are deprived of their dignity and the opportunity to breathe freely by the vile totalitarian system created in Russia and Belarus.
Another important sense to participate in this war is to approve internationalism by example. In the days when the deadly imperialism awakes, as a response, a wave of nationalism and contempt for Russians, I argue by word and deed: there are no "bad peoples". All peoples have the same grief — greedy and power-hungry rulers.
It was not just my individual decision and step. It was a continuation of our collective strategy aimed at creating sustainable structures and guerrilla combat confrontation with the tyrannical regimes of our region.
My dear friends, comrades and relatives, I apologize to all those I hurt with my leaving. I appreciate your warmth very much. However, I firmly believe that the struggle for justice, against oppression and injustice is one of the most worthy meanings that humans can fill their life with. And this struggle requires sacrifices, up to the complete self-sacrifice.
The best memory for me is if you continue actively struggle, overcoming personal ambitions and unnecessary harmful strife. If you continue to fight actively to achieve a free society based on equality and solidarity. For you and for me and for all our comrades. Risk, deprivation and sacrifice on this path are our constant companions. But be sure — they are not in vain.
I hug you all.
Your Ilya Leshy, "Seva", "Lev", Fil Kuznetsov, Dmitry Petrov
This message was originally published in Russian language on the Telegram channel of the Anarcho-Communist Militant Organization on 27 April 2023 (https://t.me/boakom/109). It has appeared in English on several websites, including https://solidarity-us.org/a-message-from-our-comrade-dmitry-petrov/.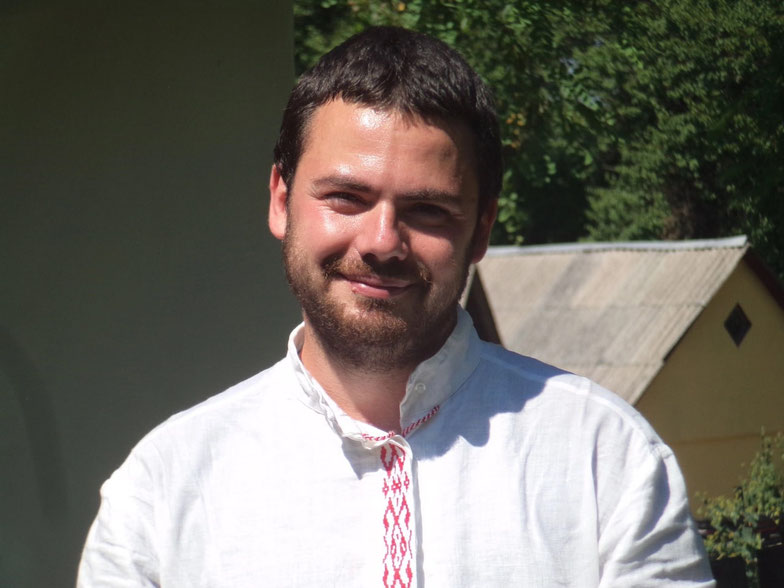 Un revolucionario ruso murió en las trincheras luchando por la defensa de Ucrania frente a la invasión de Putin
Prefacio de la CCRI: A continuación republicamos el último mensaje de Dmitry Petrov, un anarco comunista de Rusia que luchó como soldado defendiendo a Ucrania contra la bárbara invasión de Putin.
Como marxistas revolucionarios no compartimos la ideología del anarco comunismo. Sin embargo, esto no nos impide expresar nuestro profundo respeto hacia el camarada Dmitry Petrov y sus compañeros de lucha de la Organización de Combate de los Anarco-Comunistas (BOAK). Dmitry y sus amigos se niegan a servir a "su patria", todo lo contrario, son enemigos acérrimos del imperialismo ruso y su clase dominante, por esa razón se han puesto del lado del pueblo oprimido y defienden a Ucrania.
Dmitry ha dedicado su vida a la causa de la lucha por la liberación y ha pagado el precio más alto posible. Su vida fue corta, pero no fue en vano, fue mucho más significativa que muchas otras, porque contribuyó a un objetivo superior: la liberación de la humanidad. ¡Dejó un legado y la mejor manera de recordarlo es seguir luchando por un futuro socialista, libre de toda forma de opresión, explotación, inmundicia y humillación!
* * * * *
Un mensaje de nuestro camarada Dmitry Petrov
Organización Militante Anarco-Comunista, 6 de mayo de 2023
Mi nombre es Dmitry Petrov, y si lees estas líneas, lo más probable es que haya muerto luchando contra la invasión de Ucrania por parte de Putin. Soy miembro de la Organización de Combate de los Anarco-Comunistas (BOAK), y lo seguiré siendo después de mi muerte. El BOAK es una creación nuestra, nacida de nuestra fe en una lucha organizada. Logramos llevarlo en diferentes lados de las fronteras estatales.
Hice todo lo posible para contribuir a la victoria sobre la dictadura y acercar la revolución social, estoy orgulloso de mis camaradas que lucharon y luchan en Rusia y más allá. Como anarquista, revolucionario y ruso, me pareció necesario participar en la resistencia armada del pueblo ucraniano contra los ocupantes de Putin. Hice esto por la justicia, por la defensa de la sociedad ucraniana y por la liberación de mi país, Rusia, de la opresión. Por el bien de todas las personas que se ven privadas de su dignidad y de la oportunidad de respirar libremente por el vil sistema totalitario creado en Rusia y Bielorrusia.
Otro sentido importante para participar en esta guerra es aprobar el internacionalismo con el ejemplo. En los días en que el mortífero imperialismo despierta, como respuesta, una ola de nacionalismo y desprecio por los rusos, argumento de palabra y de hecho: no hay "pueblos malos", todos sufren el mismo dolor: gobernantes codiciosos y hambrientos de poder. No fue solo mi decisión y paso individual, sino la continuación de nuestra estrategia colectiva dirigida a la creación de estructuras sostenibles y el combate guerrillero de confrontación con los regímenes tiránicos de nuestra región.
Mis queridos amigos, camaradas y familiares, pido disculpas a todos aquellos a quienes lastimé con mi partida, aprecio mucho vuestra calidez. Sin embargo, creo firmemente que la lucha por la justicia, contra la opresión y la injusticia es uno de los sentidos más dignos que el ser humano puede llenar en su vida, y esta lucha requiere sacrificios, hasta el completo sacrificio de uno mismo.
El mejor recuerdo para mí es si continúan luchando activamente, superando las ambiciones personales y las luchas dañinas innecesarias. Si siguen peleando activamente por conseguir una sociedad libre basada en la igualdad y la solidaridad. Por ustedes y por mí, por todos nuestros compañeros, el riesgo, la privación y el sacrificio en este camino son nuestros compañeros constantes, pero estén seguros, de que no son en vano.
Los abrazo a todos.
Ilya Leshy, "Seva", "Lev", Fil Kuznetsov, Dmitry Petrov
Este mensaje se publicó originalmente en ruso en el canal Telegram de la Organización Militante Anarco-Comunista el 27 de abril de 2023 (https://t.me/boakom/109). Ha aparecido en inglés en varios sitios web, incluido https://solidarity-us.org/a-message-from-our-comrade-dmitry-petrov/